When choosing a college Taylor Steffen only had two requirements: a good engineering school and a place for her on the football field. She found both of these at Mississippi State University.
A sophomore in mechanical engineering, Steffen is the only female manager for the MSU football team. And while she is not the first female football manager for the Bulldogs, she is the first one to return for a second year.
"There was another girl a couple years ago, but she only lasted one semester. I'm the first to last the whole year," Steffen said.
Being in the minority is nothing new to Steffen. She became involved with the pre-engineering program and football team at her high school during her junior year, and decided to continue both in college.
"I didn't pick what college I was going to until March or May of my senior year," Steffen said. "When I got the football job that was my definite 'I'm going to State.'"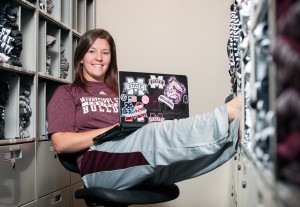 During her freshman season Steffen spent her time working with the headsets both on the field and in the press box, which she learned to do while attending Bob Jones High School in Madison, Ala. This year she has moved from the press box to the sidelines where she helps prepare all the game day necessities for the players.
"This year they moved me inside, so I get their jerseys ready, their game straps, their practice straps and anything else they need," Steffen said.
Starting her days early in the classroom, Steffen's day is not finished until football practice and the laundry are done at the Leo Seal Jr. Football Complex late at night. However, she is not just on laundry duty. She is with the team at every practice, doing everything from handling individual drills for the players to spotting and throwing the ball during team drills.
"The players are still kind of iffy on how to be around me, but last year they didn't know how to hang out with a girl," Steffen said. "They're getting better at dealing with a girl manager this year."
Being both a manager and an engineering student, Steffen strives to work harder and prove herself both on the field and in the classroom.
"I try to work harder because I picked mechanical engineering. I knew there were not a lot of girls in there and I wanted to be able to prove girls can do it, and I can do football at the same time," Steffen said.
Thanks to the opportunity provided by Steffen's bosses, athletic equipment manager Phil Silva and assistant athletic manager Jason Hubbard, she has figured out what she wants to achieve after leaving MSU. Her goal is to combine her two passions–sports and engineering–as a career, shooting to take what she's learned at State to the professional sports level.
"My boss and I were talking at the Auburn game and he told me he could see me doing this at a professional level for a NFL team," Steffen said. "I want to use engineering with sports if there is anyway I could do that."