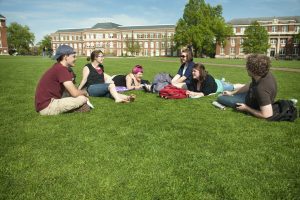 Student organizations are a valuable part of the education of an engineering student. These organizations provide opportunities for students to enhance their education and prepare themselves for the engineering profession.
Belonging to a student organization allows students to get to know their peers and the faculty within their majors. They can also meet professionals who come to campus to make presentations. Spanning all engineering concentrations, these organizations help students develop teamwork skills and give them a better understanding of each discipline.
Networking opportunities available in these organizations allow students to establish life-long friendships and can aid in finding a job after graduation. Students can also gain insight into the courses they will have to take by talking to experienced peers.
Membership in engineering student organizations is strongly encouraged. A student should belong to the technical organization representing their major as well as a professional organization representing all engineering fields.
Listed below are the engineering student organizations available at Mississippi State University followed by a brief description of each organization. If you wish to obtain additional information, please refer to the contact information provided.
Air & Waste Management Association
Dr. Mark Bricka
The Air & Waste Management Association is a nonprofit professional organization that enhances knowledge and expertise by providing a neutral forum for information exchange, professional development, networking opportunities, public education, and outreach. The Mississippi State University student chapter of the A&WMA is an interdisciplinary organization whose mission is to assist in the professional development and environmental decision-making of our members.
Alpha Pi Mu Industrial Engineering Honors Society
Dr. Brian Smith
Alpha Pi Mu is the nationally recognized honor society for the industrial engineering profession. Membership is by invitation. The goals of the society are several and can be found on the web page.
American Institute of Aeronautics and Astronautics
Tom Hannigan
The American Institute of Aeronautics and Astronautics (AIAA) is a national organization open to all students, faculty and professionals interested in the aerospace field. The August Raspet Student Branch of the AIAA offers meetings and events for its student members. High school, undergraduate and graduate students are eligible for membership. Student activities offer the chance to learn more about the aerospace field through participation in local, regional and national meetings, lectures and field trips.
American Institute of Chemical Engineers
Dr. Bill Elmore
The American Institute for Chemical Engineering (AIChE) is the professional organization for chemical engineers. At chapter meetings, members interact with other ChE students and professionals from industry, government, and academia. Plant trips, food, and fun are part of the activities. AIChE is a great way to get to know upper classmen and professors within chemical engineering.
American Society of Agricultural and Biological Engineers (ASABE)
Dr. Anna Linhoss
The American Society of Agricultural and Biological Engineering (ASABE) is a student organization that encourages inquiry and interest in agricultural, environmental, and biological engineering. ASABE promotes scholarship in education, research and service. Meetings are held monthly and members are encouraged to participate in activities throughout the semester.
American Society of Civil Engineers
Dr. Seamus Freyne
The American Society of Civil Engineers (ASCE) is the umbrella professional and technical society representing the needs and interests of civil engineers worldwide. The national award-winning student chapter at MSU provides the website as a way for interested individuals to find out more about the profession, the chapter's activities and other resources.
American Society of Mechanical Engineers
Dr. Dustin Spayde
The student chapter of the American Society of Mechanical Engineers (ASME) is a student-led professional organization dedicated to providing a student forum for the exchange of professional engineering information and the development of student leadership abilities. The chapter is active in several areas of service to the university including recruitment, preparation for professional engineering registration, and service to the national ASME.
Associated General Contractors of America (AGC)
Dr. Islam H. El-adaway
The Associated General Contractors of America (AGC) has a vision to promote a better construction industry for the professionals who build America's future.  AGC serves our nation's construction professionals by promoting the highest stand of skill, integrity and responsibility of those who work in this industry.  Their goal is to insure the integrity of the constructed product and foster a positive relationship between the systems they build and the society which is dependent upon these systems.
Association for Computing Machinery
Dr. David Dampier
Dr. Donna Reese
The Association for Computing Machinery (ACM) is a professional society for computer scientists and is the oldest computer organization that exists today. ACM provides social activities and community services, hosts presentations from various corporations, offers tutoring sessions for lower-level classes, and other activities to promote a sense of unity and friendship among the students, faculty and staff.
Biomedical Engineering Society (BMES)
Dr. LaShan Simpson
The BMES has a vision to serve as the world's leading society of professionals devoted to developing and using engineering and technology to advance human health and well-being. They do this through supporting the community with activities designed to communicate recent advances, discoveries, and inventions while promoting education and professional development of its members.
Chemical Engineering Graduate Association
Dr. Bill Elmore
The Chemical Engineering Graduate Student Association provides information and support to current and potential graduate students in the Dave C. Swalm School of Chemical Engineering. The organization fosters academic, professional and personal development through activities such as meetings with academic and industrial professionals, trips to conferences, and social functions. The organization encourages unity among graduate students and provides an outlet for voicing graduate students' issues in the department.
Chi Epsilon National Civil Engineering Honor Society
Dr. Tom White
Chi Epsilon is the national civil engineering honorary society dedicated to maintaining and promoting the status of civil engineering as an ideal profession. Chi Epsilon was organized to recognize the characteristics of the individual civil engineer deemed to be fundamental to the successful pursuit of an engineering career and aid in the development of those characteristics in the civil engineering student: competence of the highest order, the highest level of professionalism and service, moral integrity, and effective social poise.
EcoCAR3
Dr. Randolph Follett
The Mississippi State University EcoCAR 3 team is a diverse, student led, organization that strives to create future professionals who can design, build and market fuel efficient and environmentally friendly vehicles to consumers. The Mississippi State team recognizes the unique access to knowledge and hands-on experience available to students through the EcoCAR 3 program, and plans to improve the fuel efficiency, exhaust emissions, and consumer acceptability of the 2016 Chevrolet Camaro while retaining the vehicle's performance features and keeping the Camaro tradition alive.
EcoCAR 3 is the latest U.S. Department of Energy (DOE) Advanced Vehicle Technology Competition (AVTC) series. As North America's premier collegiate automotive engineering competition, EcoCAR 3 is challenging 16 North American university teams to redesign a Chevrolet Camaro to reduce its environmental impact, while maintaining the muscle and performance expected from this iconic American car. Sponsored by DOE and General Motors and managed by Argonne National Laboratory, EcoCAR is the heart of American automotive ingenuity and innovation and is the ultimate training ground for minting future automotive leaders. While this model is the most technologically advanced Camaro in the vehicle's history, EcoCAR 3 teams will be tasked to enhance the vehicle even further by applying the latest cutting-edge technologies and incorporating new innovative ideas. Teams have four years (2014-2018) to harness those ideas into the ultimate energy-efficient, high performance vehicle. The Camaro will keep its iconic body design, while student teams develop and integrate energy efficient powertrains that maximize performance, while retaining the safety and high consumer standards of the Camaro. Teams also will incorporate alternative fuels and advanced vehicle technologies that will lower greenhouse gas and tailpipe emissions.
Engineers Without Borders (EWB)
Dr. Dennis Truax
Engineers Without Borders (EWB) is a volunteer organization with 350 projects in over 45 developing countries, changing the lives of millions of people around the world.  EWB's vision is that of a world in which the communities we serve have the capacity to sustainably meet their basic human needs, and that our members have enriched global perspectives through the innovative professional educational opportunities that the EWB provides.  Membership consists of professionals and students from a variety of professions including engineering, public health, anthropology and business working on innovative professional projects that provide a global perspective through chapters on more than 180 campuses throughout the United States. EWB supports community-driven development programs worldwide by collaborating with local partners to design and implement sustainable engineering projects, while creating transformative experiences and responsible leaders through the delivery of smaller scale infrastructure projects within an overall community program framework.
Engineering Ambassadors
Robert Green
The Mississippi State University College of Engineering Ambassadors is a group of engineering students who assist the college in developing and maintaining alumni relationships as well as aid in the recruitment of potential engineering students.
Engineering Student Council
Robert Green
The Engineering Student Council (ESC) is the main engineering student organization on the campus of Mississippi State University. The ESC consists of members from each major on campus and one representative from each engineering student organization on campus. The ESC's main goals are to act as a liaison between the students and the dean of engineering, provide activities for the benefit of engineering students, and promote the Bagley College of Engineering.
Entrepreneurship Network
Eric Hill
The Entrepreneurship Network is student organization that seeks to promote learning about the entrepreneurial process among engineering and computer science students. Meetings are held monthly. The activities include hosting the speakers for the Entrepreneurship Seminar Series, organizing the Business Plan Competition, and pursuing other topics of interest.
Eta Kappa Nu
Jane Moorhead
Eta Kappa Nu is both an honor society and a service organization for electrical and computer engineering. By participating in chapter activities, members help both themselves and others. Membership is by invitation only and all qualified students are invited to join each membership.
The Factory
Dr. Pedro Mago
The Factory is a network of labs on campus that gives students, faculty, and staff access to the tools and training they need to work on their own projects. The shop currently has access to a 3D printing lab, machine shop, wood shop, welding shop, and clothing design lab. The network is always growing, and the available training workshops are rapidly expanding. If you want to learn how to work with your hands, and use the latest technologies, this is the organization for you. We are open to all majors on campus.
Graduate Women in Science and Engineering
Dr. Keisha B. Walters
Graduate Women in Science and Engineering (GWISE) was created to improve the graduate school experience for women in science, engineering, mathematics, and other technical fields. GWISE also aims to make graduate school more inviting for women considering further study in STEM fields at MSU and recognize women who are achieving success in these fields.
Increasing Minority Access to Graduate Education (IMAGE)
Angela Verdell
Increasing Minority Access to Graduate Education is a program that provides a chance for early exposure and preparation for scientific study and research for interested undergraduates. Created in 1991, IMAGE strives to provide a sense of community for minority students and develop connections between upper and lower classmen minority students.
Institute of Biological Engineering
Dr. LaShan Simpson
The Institute of Biological Engineering (IBE) is a student organization that encourages inquiry and interest in biological engineering. IBE promotes scholarship in education, research and service. Meetings are held monthly and members are encouraged to participate in activities throughout the semester.
Institute of Electrical and Electronics Engineers
Jane Moorhead
The Institute of Electrical and Electronics Engineers (IEEE) is a national organization open to all students, faculty and professionals in the fields of electrical and computer engineering. The student branch of IEEE offers meetings and events for electrical engineering, computer engineering and computer science. These meetings provide students with an opportunity to see what type of work is being done in the electrical engineering field and the types of companies that do work in the electrical engineering field.
Institute of Industrial Engineers
Dr. Lesley Strawderman
The Institute of Industrial Engineers (IIE) is the world's largest professional society dedicated solely to the support of the industrial engineering profession and individuals involved with improving quality and productivity. The benefits of the student chapter include meeting with other IIE students and other professional IIE members, speakers, plant tours, and out-of-state trips.
Institute of Transportation Engineers (ITE)
Dr. Li Zhang
The Institute of Transportation Engineers (ITE) is an international educational and scientific association of transportation professionals responsible for meeting society's mobility and safety needs.  ITE promotes the application of technology and scientific principles to research, planning, design, construction, and operation of all modes of transportation. ITE also promotes professional development of its members, supports and encourages education, stimulates research, and develops public awareness of the importance of the nation's transportation infrastructure.
Mechanical Engineering Ladies Organization (MELO)
Dr. Alta Knizley
The Mechanical Engineering Ladies Organization (MELO) is dedicated to the mentorship and development of current and future MSU Mechanical Engineering female students.
National Society of Black Engineers
Angela Verdell
The National Society of Black Engineers is an organization that encourages academic excellence, professional success and community involvement in its members. The MSU chapter of NSBE strives to increase the number of culturally responsible black engineers and send them into the profession as leaders in their field.
National Society of Professional Engineers
Robert Green
The National Society of Professional Engineers (NSPE) is an organization that focuses on all engineering disciplines. NSPE encourages professional registration and is actively involved in promoting the ethical practice of engineering. NSPE also emphasizes the image of engineers and promoting the engineering profession. Two major events sponsored by NSPE are MATHCOUNTS, a national math competition for 6th, 7th and 8th graders, and National Engineers Week.
Omega Chi Epsilon
Dr. Mark Bricka
Omega Chi Epsilon is the chemical engineering honor society. The organization seeks to recognize excellence in chemical engineering while promoting investigation, service and professionalism. The local chapter tutors students within the department and works with a local school in preparation for the MATHCOUNTS program.
Order of the Engineer Link 126
Dr. Dennis Truax
Robert Green
The Order of the Engineer fosters a spirit of pride and responsibility in the engineering profession. It is not a club and does not hold meetings. Seniors in engineering are invited to accept the Obligation of an Engineer at an annual induction ceremony. At the ceremony, engineering students are presented with a certificate and a stainless steel ring which is worn on the smaller finger of their working hand.
Sigma Gamma Tau
Dr. David Thompson
Sigma Gamma Tau is the national honorary society for students and professionals in aerospace engineering. Sigma Gamma Tau seeks to promote academic achievement and professionalism in the field of aerospace engineering. Membership is by invitation to the top fifth of the aerospace sophomore class, the top fourth of junior class, the top third of the senior class, and to graduate students who have completed at least two-fifths of their coursework.
Society of Automotive Engineers
Dr. Mark Horstemeyer
The student branch of the Society of Automotive Engineers (SAE) provides a connection between the university and those involved in the art of engineering for car, truck, tractor, airplane, and other mobile equipment. The primary activities include the design, construction and race of Mini Baja and SAE Formula cars. Secondary activities include meetings and trips to companies in these endeavors.
Society for Hispanic Professional Engineers (SHPE)
Dr. John J. Ramirez-Avila
The Society for Hispanic Professional Engineers is dedicated to increasing the number of Hispanics in the field of engineering, improving the retention of Hispanic students in the engineering profession, and providing opportunities for the professional development of chapter members.
Society of Plastics Engineers (SPE)
Dr. Hossein Togiani
The Society of Plastics is an association of professionals who are engaged in the plastics industries. The goals of SPE are to spread knowledge, strengthen skills and promote plastics. The objective of the SPE is to promote the scientific and engineering knowledge relating to plastics.
Society of Women Engineers
Dr. Donna Reese
Dr. Lakiesha Williams
The Society of Women Engineers (SWE) is service organization that focuses on supporting women in engineering and encouraging the future women in engineering.
Soil and Water Conservation Society (SWCS)
Dr. John J. Ramirez-Avila
The Soil and Water Conservation Society (SWCS) is a nonprofit scientific and educational organization advocating conservation professionals and science-based conservation practice, programs and policies.  SWCS members include researchers, administrators, planners, policymakers, technical advisors, teachers, students, farmers, and ranchers. Chapters conduct a variety of activities at the grassroots level to address land and water conservation issues.
Tau Beta Pi National Engineering Honor Society
Dr. J.W. Bruce
Theta Tau Professional Engineering Fraternity
Mike Hicks
Theta Tau Co-Ed Professional Engineering Fraternity is devoted to bringing together students of the engineering fields in a strong bond of fraternal fellowship while developing a high standard of professional interest. Theta Tau is unique because it allows members the opportunity to interact regularly with students in other engineering fields in a fraternal way that no other engineering group can offer. Please check the website for details about joining.
Toastmasters
Dr. Patty Ann Bogue
The Bulldog Toastmasters club is affiliated with Toastmasters International. Sponsored in part by the Bagley College of Engineering, the charge from the college and Toastmasters International is to develop skills and confidence in the members to effectively communicate ideas and information in a public forum. Bulldog Toastmasters meets weekly on Wednesday evenings from 5:00 to 5:55 in McCool 215. Membership is open to the university and the Starkville area.
Upsilon Pi Epsilon Computing Sciences Honor Society
Dr. Sarah Lee
Upsilon Pi Epsilon (UPE) is an honorary society established to recognize outstanding talent and promote high scholarship and professionalism in the computing sciences. UPE is the first and only international honor society for the computing sciences and is recognized by ACM and IEEE computer societies. Membership in UPE is extended through invitation to students and faculty in computer science and computer engineering who display outstanding scholarship and professionalism.