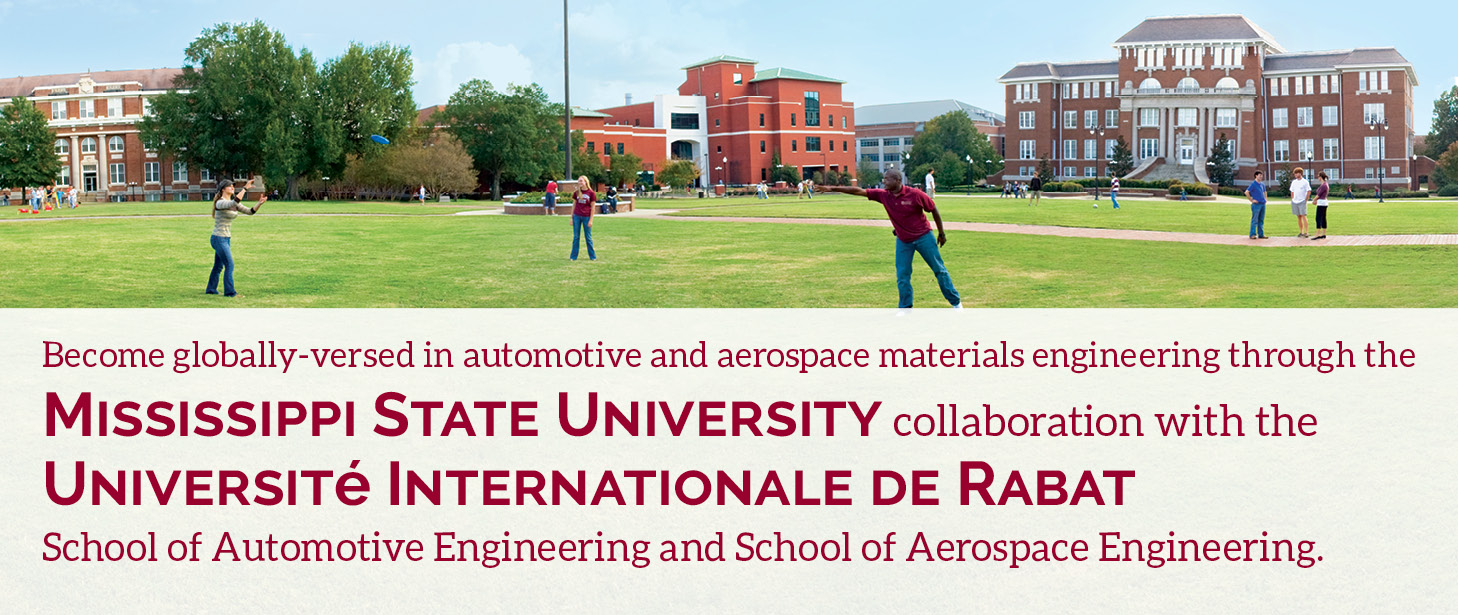 We are pleased to announce a collaboration between the Université Internationale de Rabat and the Bagley College of Engineering at Mississippi State University. We are collaborating with UIR in two different areas:
Automotive Engineering: entering first-year UIR students (and also second year UIR students) will pursue a Bachelor of Science in Mechanical Engineering at MSU. They will spend their first 3 years on the UIR campus, year 4 on the MSU campus (to complete the BS degree), and year 5 back at UIR. After their 5th year, the students will receive a Diploma of Engineering degree from UIR and a Master of Science degree from MSU.
Download a sample graduate program curriculum.
Download a sample undergraduate program curriculum.
Aerospace Engineering:

Entering first-year UIR students (and also second year UIR students) will pursue a Bachelor of Science in Mechanical Engineering at MSU. They will spend their first 3 years on the UIR campus, year 4 on the MSU campus (to complete the BS degree), and year 5 back at UIR. Students will also have an option to pursue a MS degree from MSU.
5th year students can enroll at MSU to pursue a MS degree in Aerospace Engineering which they would receive upon completion of their Diploma of Engineering degree from UIR. This program will be open to students in their 3rd, 4th, and 5th year of study at UIR.
Mississippi State University is home to the nationally ranked Bagley College of Engineering and is a global leader in automotive and materials related research. With cross-disciplinary research centers, working groups and laboratories, and faculty who are considered leaders in their fields, Mississippi State can offer students experience in automotive design, composite materials, lightweight metals, power systems, advanced electronic materials, alternative energy, multi-scale modeling and more.
For more information about this collaborative program, contact dean Jason Keith, keith@bagley.msstate.edu.
Printable Automotive Engineering Flyer
Printable Aerospace Engineering Flyer
Frequently Asked Questions
What Programs will there be?
Students entering UIR can pursue an Aerospace Engineering or an Automotive Engineering diploma degree program. These students will study a common 3 years at UIR following the Mississippi State Mechanical Engineering curriculum (insert link to ME curriculum plan here), then study at Mississippi State University for their 4th year. Students will complete a Bachelor of Science in Mechanical Engineering from Mississippi State and then begin their graduate degree program during summer. Students will then return to UIR for their 5th year and complete the requirements for their UIR diploma and a MSU Master of Science degree.
Effective for the fall 2015 semester, students currently in the UIR Aerospace Engineering program can come to Mississippi State University in their 5th year to pursue a Master of Science in Aerospace Engineering. This program will be in effect for the academic years beginning fall 2015 through fall 2017 and will be re-evaluated at that point in time.
What do I do?
UIR currently has engineering diploma programs in Aerospace Engineering and Automotive Engineering. If you are a new student, you should apply to it. If you are a current student, you should transfer to it.
For Spring 2016, the process for 5th year students:
Students apply as a transfer student to MSU. These students will be jointly identified by UIR personnel and the Dean of the Bagley College of Engineering. Students will have completed 4 years of courses and be in good standing at UIR.
The students will be admitted as undergraduates in aerospace engineering
Students will be allowed to take 6000 and 8000 level classes in the Bagley College of Engineering. This will also include hours for thesis research.
MSU courses are articulated back to UIR
Student receives 5 year diploma degree from UIR
Student applies for a graduate degree at MSU. GRE requirements are waived and the English proficiency of these students will be evaluated by an interview which may include representatives from UIR, from the Bagley College of Engineering, and the English as a Second Language program. It is noted that all courses in Aerospace Engineering at UIR and MSU are taught in English and English proficiency is required for UIR students.
UIR notifies MSU of diploma degree completion
MSU grants MS degree (30 credits)
The above process will hold for UIR students currently in their 3rd and 4th years as well. That is, they can apply to come to MSU in their 5th year.
For Spring 2016, the process for current UIR students who are:
In their 1st year in the School of Aerospace Engineering or School of Automotive Engineering
In their 2nd year in the school of Aerospace Engineering
Students have applied and been accepted to UIR and are currently taking face-to-face classes that are equivalent to the MSU Mechanical Engineering Curriculum. It is noted that these students will come to MSU during their 4th year of their program.
Students must apply as a transient student at MSU. Students apply online at: http://www.apply.msstate.edu/
The application fee for undergraduate enrollment will be waived by the MSU Registrar's Office.
Students must complete the partnership application at: UIR Partnership Application (pdf)
UIR will bundle the partnership applications and send by email to Dee Newell at drn1@msstate.edu and Crystal Sloan at crystal.sloan@msstate.edu.It is noted that students must meet MSU and BCoE transfer admission requirements upon the completion of their 3rd year at UIR.

Students will have completed the core courses listed below and earned an overall 2.0 GPA (as computed by MSU) on all hours attempted. (This is a C or better on all courses. An equivalency table shows a score of 10/20). The applicant must successfully complete the following 30 semester hours of college work (equivalent to the MSU courses):

6 semester hours English Composition
3 semester hours Calculus
6 semester hours Natural Science (with 3 semester hours being Chemistry)
6 semester hours Humanities
6 semester hours Social or Behavioral Sciences*
3 semester hours Fine Arts*

* Must be from approved MSU list http://catalog.msstate.edu/undergraduate/academicpolicies/degreesdegreerequirementsandscheduling/generaleducationrequirements/

For spring 2016, MSU will list a special topics course ME 2990 Mechanical Engineering Orientation. This will be a 1 hour course, available online, and will be graded as Pass/Fail. Students will need to register and complete this course along with their spring 2016 curriculum at UIR. All work for this self-paced course must be completed by a date agreed upon between MSU and UIR which will be within the confines of the MSU academic calendar.
Students will pay tuition, fees, and other expenses to UIR.
What are the entrance requirements for this program?
Applicants to the UIR School of Aerospace Engineering and School of Automotive Engineering are selected through an assessment that includes a complete review of their academic performance and personal behavior.
Before the candidate begin the online application, the applicant must be have:
A valid email address and kept up to date
Grades of the first and the second year of baccalaureate
Applications are "all electronic" format that is fully informed, print folder are not accepted.
Step 1: Pre-application
This first step is essential and should be completed in the standards. Once connected to the application form, the applicant will be directed automatically to the following order:
Identification

: the candidate must enter personal information in the appropriate fields.

Curriculum

: the applicant must enter information about his/her original education. Information like the name of the institution, the type of baccalaureate (sector), the system of study (French, Moroccan, other …) will be requested.

Academic achievement

: the applicant must provide the grade averages from the 1st and second semesters of the first year of the baccalaureate and the grade average of the second year of the baccalaureate.

Programs proposal

: once the grade averages are indicated, the system offers a list of programs to which the candidate can apply directly
Step 2: Constitution of the online application
Once the login and password created, the candidate can connect directly to the candidate space. In this space, it will be able to complete the application by choosing programs (One or more programs can be chosen) and the entrance test session (4 dates). And complete the record by the documents requested by scanning and downloading on his candidate space: – copies of transcripts – ID copy – picture – competitions fee payment receipt.
The validation of the application can be done once the payment received by our accounting department. Upon receipt of payment, and once validated by the accounting department, the invitation is automatically sent to the candidate within a period not exceeding three days.
Step 3: Validation of the online application
Admission criteria is based upon satisfying high-school grades requirements (Math, Physics and English grades must be higher than 14/20) and passing the written exam, which is composed of Math, Physics and English.
Step 4: Convocation to the written and oral tests
Applicants go through an oral exam in English considering the following aspects:
Diversity of personal background and experience
Qualities such as leadership, motivation, concern for others and for the community
Nonacademic achievements in the performing arts or athletics, employment or personal responsibilities
Interest in the aerospace or automotive fields
Mississippi State University undergraduate entrance requirements are summarized at this site: http://www.catalog.msstate.edu/undergraduate/admissionsinformation/entrancereqirements/
The Bagley College of Engineering has additional requirements. These are summarized here:
http://www.catalog.msstate.edu/undergraduate/collegesanddegreeprograms/thejamesworthbagleycollegeofengineering/
Mississippi State University graduate entrance requirements are summarized at this site: http://catalog.msstate.edu/graduate/admissions-information/admission-requirements/
If you cannot satisfy these requirements, you may need to apply for regular admission to UIR. Then, you can apply for admission in the next partnership cycle. One example of when this may occur would be if you have not satisfied the Math requirements.
How do I apply for scholarships from MSU?
MSU and UIR are developing a plan to seek support for private scholarships for this collaboration. More information will be made available at a later time.
Will I need to go to the Starkville campus?
In this program, UIR students will spend a year (their 4th year) on the beautiful MSU campus and study towards an engineering degree.
Will there be distance education classes?
UIR students will have opportunities to participate in distance instruction. Students will be able to sit in a classroom at UIR and synchronously interact with an MSU faculty member and students while they are in class. Asynchronous delivery options will also be available.
Do I need a computer?
MSU requires all engineering students to own a laptop. More information is at the website
http://tinyurl.com/bcoelaptop.
What about computer software?
You will be required to have certain computer software. Some programs can be downloaded for free or purchased at a discount by MSU students as we have software licenses. You will receive information on software needs in your courses.