Fowler named fellow of international engineering organization
February 9, 2017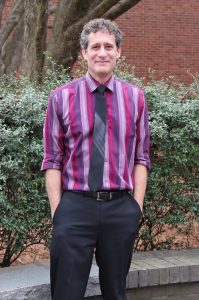 An international organization has selected a Bagley College of Engineering faculty member to receive its highest membership honor.
James Fowler, the graduate program director of Bagley's Department of Electrical and Computer Engineering, was elevated to the rank of fellow by the Institute of Electrical and Electronics Engineers (IEEE).
Recognized for his contributions to lossy source coding and dimensionality reduction of multidimensional data, Fowler was one of five fellows representing Southeastern Conference universities.
"It is an immense honor that represents over 25 years of work," said Fowler. "But one that would not be possible without innumerable contributions from all of my students and collaborators, as well as unfailing support from the department, college and university."
IEEE fellows are chosen from an international pool of candidates working in both academia and industry and are honored annually based upon their contributions and accomplishments to specific IEEE fields of interest. The honorees join a distinguished fellow program that has existed for over 100 years, first established by IEEE in 1914.
Fowler joined the Bagley faculty in 1997 after earning his doctoral degree, and both a bachelor's and master's degree, from Ohio State University. In addition to directing the graduate program, Fowler has held the ECE department's Billie J. Ball endowed professorship since 2011. Fowler is also the associate director for the Distributed Analytics and Security Institute at MSU. His research interests center around communication with images, video and geospatial data, particularly in image processing and coding, video coding and data communication systems.
IEEE is the world's largest technical professional organization dedicated to advancing technology for the benefit of humanity.
For more information on the Institute of Electrical and Electronics Engineers and its fellows program, visit www.ieee.org.
The Bagley College of Engineering is online at bagley.msstate.edu. Follow us on Facebook, Twitter and Instagram by searching for @msuengineering.
By: Amanda Meeler