MSU's Team Xipiter soars at UAS competition
September 2, 2016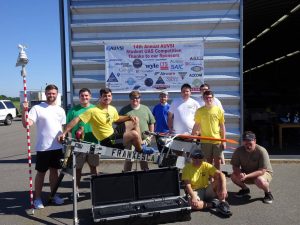 STARKVILLE, Miss. – A Mississippi State University student team achieved a top ten finish at an international unmanned air system competition.
MSU's Team Xipiter clinched 6th place overall during the 14th annual Student Unmanned Air System Competition hosted by the Association for Unmanned Vehicle Systems International (AUVSI) in Patuxent, Maryland. A total of 43 teams participated in the event.
The team of MSU engineers placed among the top ten in each competition subsection, including third in flight readiness, fifth in mission performance and eighth in the technical paper. Out of the 43 accepted, 30 total teams submitted technical papers, while 24 teams participated in mission performance and flight readiness.
This year marked the 13th time in the last 14 years that a Mississippi State team has competed in the annual challenge. The group of MSU engineers was also the only Southeastern Conference team to compete in 2016.
To compete in the AUVSI competition, teams must design, integrate and demonstrate a system able to conduct specific air operations. This includes autonomous flight, course navigation and onboard payload sensor usage.
2016 team members include:
Tyler-John Ciufo (Howell, New Jersey), an ASE senior and airframe lead
Joshua DuPont (Starkville, Mississippi), a graduated senior of ASE
Jonathan Hathcock (Killen, Alabama), an ECE junior and avionics lead
Cody Jennings (Canton, Mississippi), a senior in ASE
Nicholas Jones (Gulfport, Mississippi), a senior in Business Information Systems
Martin McCandless (Ridgeland, Mississippi), an ASE junior
Taylor Powell (Ocean Spring, Mississippi), an ASE junior
Brady Simmons (Brandon, Mississippi), a senior in ASE
Charles Spinnato (Bel Air, Maryland), an ASE senior and Xipiter team lead
Avery Tyrrell (North Augusta, South Carolina), an ASE senior
Hunter Vesa (Biloxi, Mississippi), a senior in ASE
Blass Watson (Starkville, Mississippi), an ABE senior
From its headquarters in Arlington, Virginia, AUVSI works to promote and support its industry through education, advocacy and leadership. It is considered a leader in the unmanned systems and robotics community.
More information on the student unmanned systems competition can be found at http://www.auvsi-suas.org.
The Bagley College of Engineering is online at bagley.msstate.edu. You can also follow us on Facebook, Twitter and Instagram by searching for @msuengineering.
By: Amanda Meeler