Another successful Summer Bridge Program has come to an end, and participants of the program have entered their freshman year already ahead of many of their peers.
The month-long program, sponsored by Ergon, Inc., a Jackson, Mississippi-based company that provides specialty products and services to essential industries worldwide, allows future Bulldog Engineers to take the mathematics courses they will need to begin their career as Bulldog Engineers.
"The Summer Bridge Program gives students a small glimpse at what their fall semester will look like," Jean Mohammadi-Aragh, director of the James Worth Bagley College of Engineering's Office of Diversity Programs, said. "There are some academic and social aspects to the program, and it was established to help our engineering students acclimate to the college environment and get them started on the right path to becoming successful engineers."
Mohammadi-Aragh explained that it's crucial for engineering students to come to campus ready to take on the heavy math load that is required for engineering students. If they aren't prepared to take calculus as a freshman, they are already behind in their math courses. But she's reassuring to those students who might not be ready to take on calculus. She emphasizes that the Summer Bridge Program, which was a recent recipient of Insight into Diversity's 2023 Inspiring Programs in STEM award, is designed to prepare engineering students for success.
Summer 2023 participant and computer engineering major Aisha Williams planned to participate in Summer Bridge to increase her math knowledge because she did not feel equipped to take on any of the rigorous math courses offered at MSU.
"I had been told multiple times that the classes would challenge me, so I felt the Summer Bridge program would assist me with preparation," Williams said. "Summer Bridge did more than just prepare me academically. It prepared me for what college would be like as an incoming freshman and what to expect for the next four years."
Williams expressed that because of the program, she learned what it means to hold herself and her peers accountable, gain relationships, be informed about the various opportunities on and off campus, experience new things, and feel more confident about college life at a university.
"I benefited from this program in countless ways, and I am so proud to be able to say I had the chance to experience this opportunity," she said.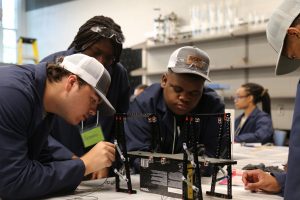 Mechanical engineering major Julian Clark echoed Williams and added that attending the program this past year gave him a head start on his academic career and allowed him to get comfortable being away from home while getting the college experience.
"One thing that helped me out was how the program allowed me to familiarize myself with the campus and give me a glimpse of how college would be for me," Clark said. "I made several friends during June, which helped me feel more comfortable while away from home and gave me some people to socialize with during these four years. Overall, the Summer Bridge program has greatly benefitted me by introducing me to the Mississippi State experience early and allowing me to earn a calculus credit before the fall term."
But it's not just all math and no play. Mohammadi-Aragh emphasizes that they strive to give students the whole campus experience during the summer. Each weekend, counselors, many of whom went through the program themselves, plan activities for the students to help them get to know each other. The goal, she said, is to let the students create a network of friends on whom they can rely.
"It's no secret that engineering students must study a bit more than some of the other majors. Which means that throughout their four years here, they may have to say no to some fun things happening around campus," she explained. "But having friends who know what you are going through and who have to say no to those same things to study can make hitting the books a little easier. That's what we want to give them through Summer Bridge: a community."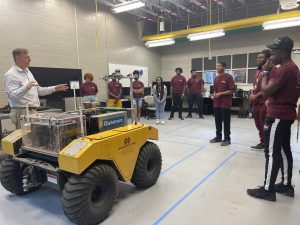 In addition to taking summer classes, the students also participated in a month-long engineering project created by Summer Bridge's sponsor, Ergon, Inc. Bonnie Chapman, Vice President - Product Stewardship at Ergon, said the project challenges students to design a storage tank to hold an Ergon asphalt product. In addition to the engineering project, Chapman said, the students get to tour several Ergon facilities, including Paragon Technical Services, a premier asphalt testing and development laboratory in Richland, and Ergon Refining Inc., a naphthenic specialty products refinery in Vicksburg. While there, the students had the opportunity to gain insight from Ergon scientists and engineers.  Chapman explained that the company takes pride in being an active sponsor of the Summer Bridge Program.
"Relationships were always so important to Ergon's founder, Mr. (Leslie) Lampton, and we want these students to know that we are more than just a program sponsor. We want them to succeed," Chapman said. "We want to have a hand in helping them graduate as the best engineers they can be, and for many of them, that starts with the Summer Bridge Program."
Chapman continued by saying that during the program, the students not only visit Ergon facilities, but they also get to attend lunch and learns with company employees, where they learn to create resumes and improve their interview skills. Chapman said they also have weekly project meetings to discuss what the students are struggling with and how they can find solutions. Chapman noted that Ergon's efforts do not end when the summer is over. Ergon employees continue to help engineering students form a community of support around themselves, including a professional development book club led by Ergon employee Jamian Rush.
"We want to pour into these students," Chapman said. "They are inquisitive, intelligent and capable of so much, and when they walk across that stage at graduation, we want to celebrate with them. This sponsorship isn't just about donating money. It's about investing in Mississippi's future engineers, and we want to do what we can to help them succeed.