Usher named as recipient of Larry Brown Endowed Professorship
November 28, 2017
John Usher, head of the industrial and systems engineering department within Mississippi State University's Bagley College of Engineering, has been named as the recipient of the Larry Brown Endowed Professorship in Industrial and System Engineering.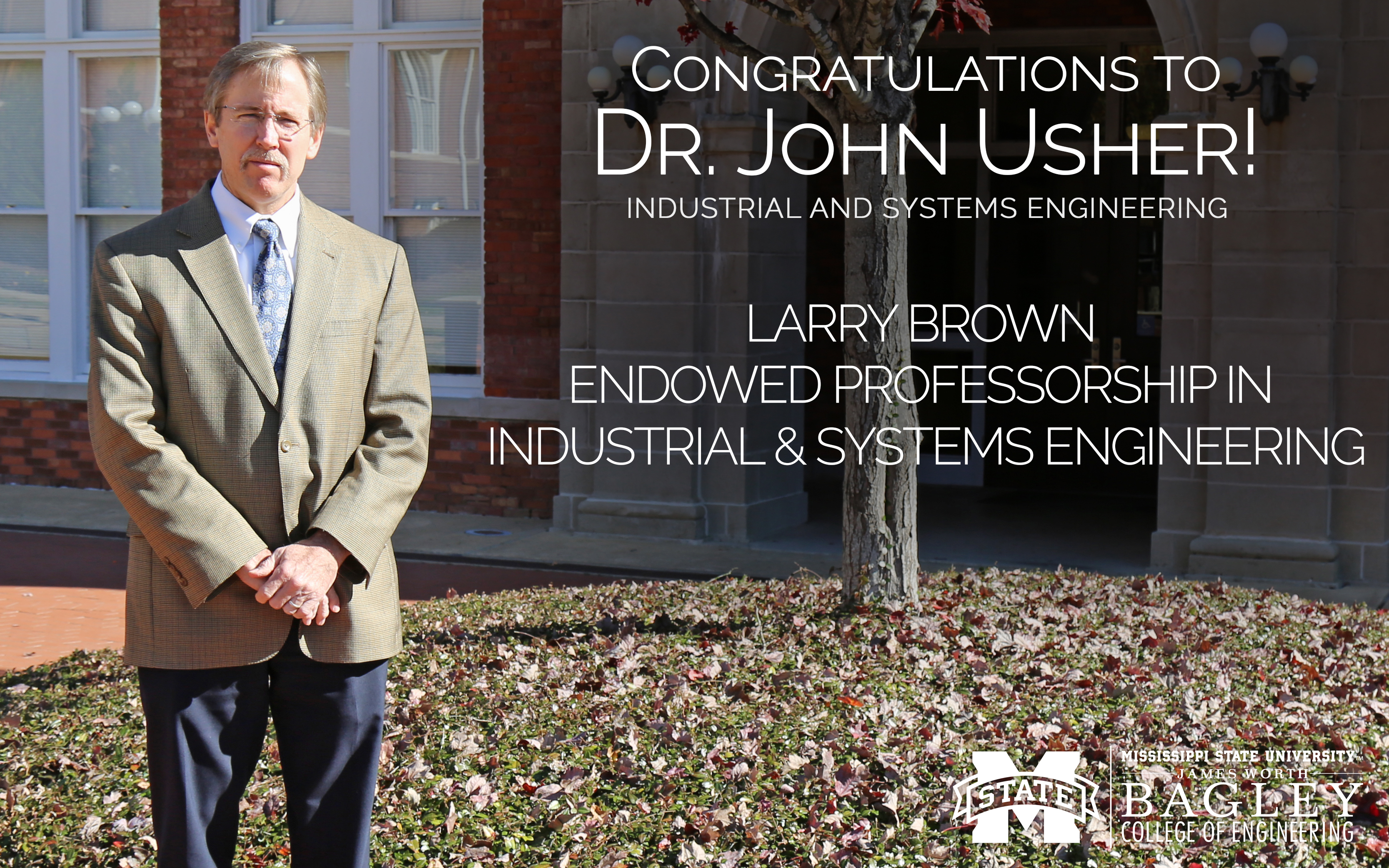 The endowed professorship was established in 2011 by several Bagley alumni and the Industrial Engineering Advisory Board. It honors longtime industrial engineering department head Larry Brown, who joined the Mississippi State faculty in 1970. He served as department head from 1986 until his retirement in 2006.
"Larry Brown recruited me as an assistant professor when I first joined the department close to 29 years ago," said Usher. "It was a pleasure to serve under his leadership and it is an honor now to be the first of many to hold this title. Larry is a great mentor and friend of mine."
Usher has been the head of the industrial and systems engineering department since 2012 and has been a part of the Mississippi State faculty since 1989. He earned his Ph.D. in Engineering Sciences as well as graduate degrees in both Chemical Engineering and Industrial Engineering from Louisiana State University. He earned his bachelor's degree in Chemical Engineering from the University of Florida.
Prior to his academic career, Usher worked with Texas Instruments in the area of process development for the manufacture of multi-layer printed circuit boards. His research interests focus on systems simulation, modeling, and analysis, as well as employing artificial intelligence in software environments to enhance system operation.
Usher has published numerous papers in technical journals and conference proceedings, edited several books, and continues to serve on the editorial staff of several journals. He is a registered professional engineer in Mississippi and a senior member of IIE and SME.
The Bagley College of Engineering is online at bagley.msstate.edu. Follow us on Facebook, Twitter, Instagram and YouTube by searching for @msuengineering.
By: Philip Allison