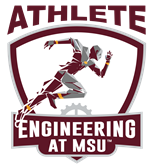 Mississippi State University's industrial and systems engineering research program, Athlete Engineering, has received its certification to create a program for both students and practitioners to continue their studies in the athlete engineering field.
The Athlete Engineering research program is in collaboration with Mississippi State Athletics, the Bagley College of Engineering's industrial and systems engineering department, the Department of Kinesiology, and the School of Human Sciences. The program explores human performance using laboratory equipment and wearable technologies.
The program will now offer an Athlete Engineering certificate eligible for Mississippi State graduate students and any practitioner across sports, industry and military disciplines to receive credit for mastering human factors techniques and technology solutions focused on human performance.
Reuben Burch, an associate professor in industrial and systems engineering and the associate director of human factors and athlete engineering, explained the purpose of the Athlete Engineering certificate.
"The certificate is a way for existing practitioners like strength conditioning coaches, health and safety engineers, athletic trainers in the military and other practitioners to have access to human factors fundamentals, cognitive-based courses, and wearable data-detailed courses without having to have had the extensive calculus and differential equations background," Burch said. "If you're a strength and conditioning coach, you already have multiple kinesiology degrees and certifications but may not have the fundamental math requirements to take graduate-level engineering courses. If they have a degree in STEM or a background in human performance, they shouldn't necessarily have to go through all the rigors of engineering just to gain access to critical engineering courses that could help them make more informed decisions. Our new certificate program allows them access to this great course materials that will build on top of what they already know."
Mississippi State's Athlete Engineering program is the first of its kind, and Burch believes this program will set Mississippi State apart from other universities across the country.
"We're the first in the country to create this type of program. This sets us apart because every other university is looking to create some type of sports science program, but we're already ahead of the curve. While other programs are training sports scientists, we're training athlete engineers," Burch said. "We will have an interdisciplinary pipeline of students who understand all aspects of human performance while also understanding the importance of engineering and thinking in that perspective."
To learn more about the Athlete Engineering research program and earning an Athlete Engineering certificate, please visit https://www.online.msstate.edu/athlete.