Fifty-two groundbreaking projects were presented during the Department of Electrical and Computer Engineering Design Showcase this week.
The showcase, which occurs in the fall and spring semesters, featured teams from the department's Foundations in Design, Capstone Design I and Capstone Design II classes. Students in these courses used their knowledge and skills to incorporate appropriate engineering standards, all while fabricating designs, testing projects and demonstrating fully functional projects. During the showcase, each team had the opportunity to present their projects to those who attended. First through third places were chosen for both the Foundations in Design course and the Capstone Design II course.
The team that placed first in the Capstone Design II showcase received the Ed Blakeslee Senior Capstone Design Award and $1,000. The Ed Blakeslee Senior Capstone Design Award was made possible through the generous donation of electrical engineer alumnus Ed Blakeslee. All projects and descriptions are listed below, starting with first, second and third place.
Foundations in Design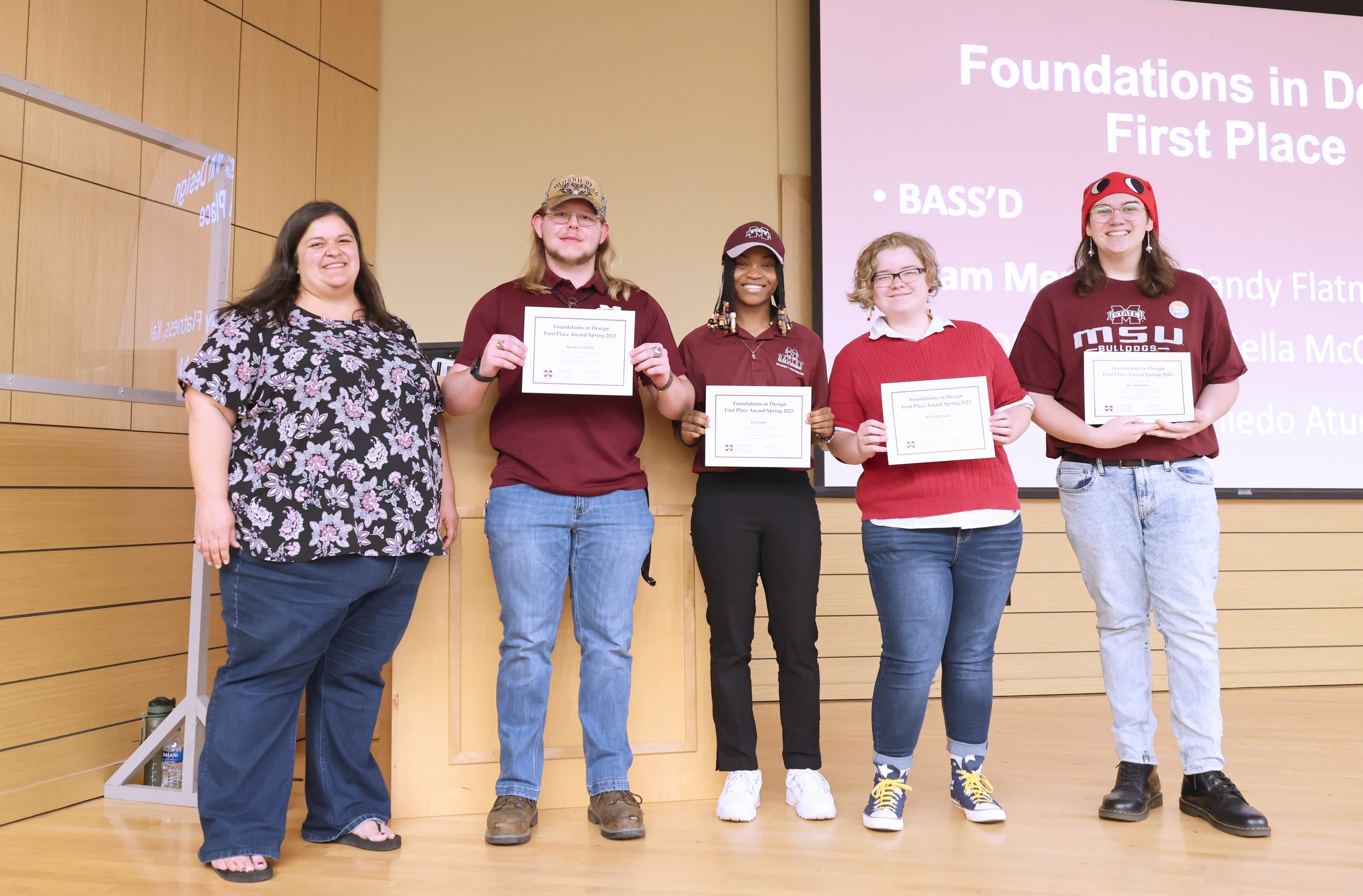 First place: Randy Flatness, Claire Johnson, Jae Lowe and Bella McClain
Project: BASS'D, a wireless gain control for vehicle amplifiers.
Project Mentor: Chiedo Atuegwu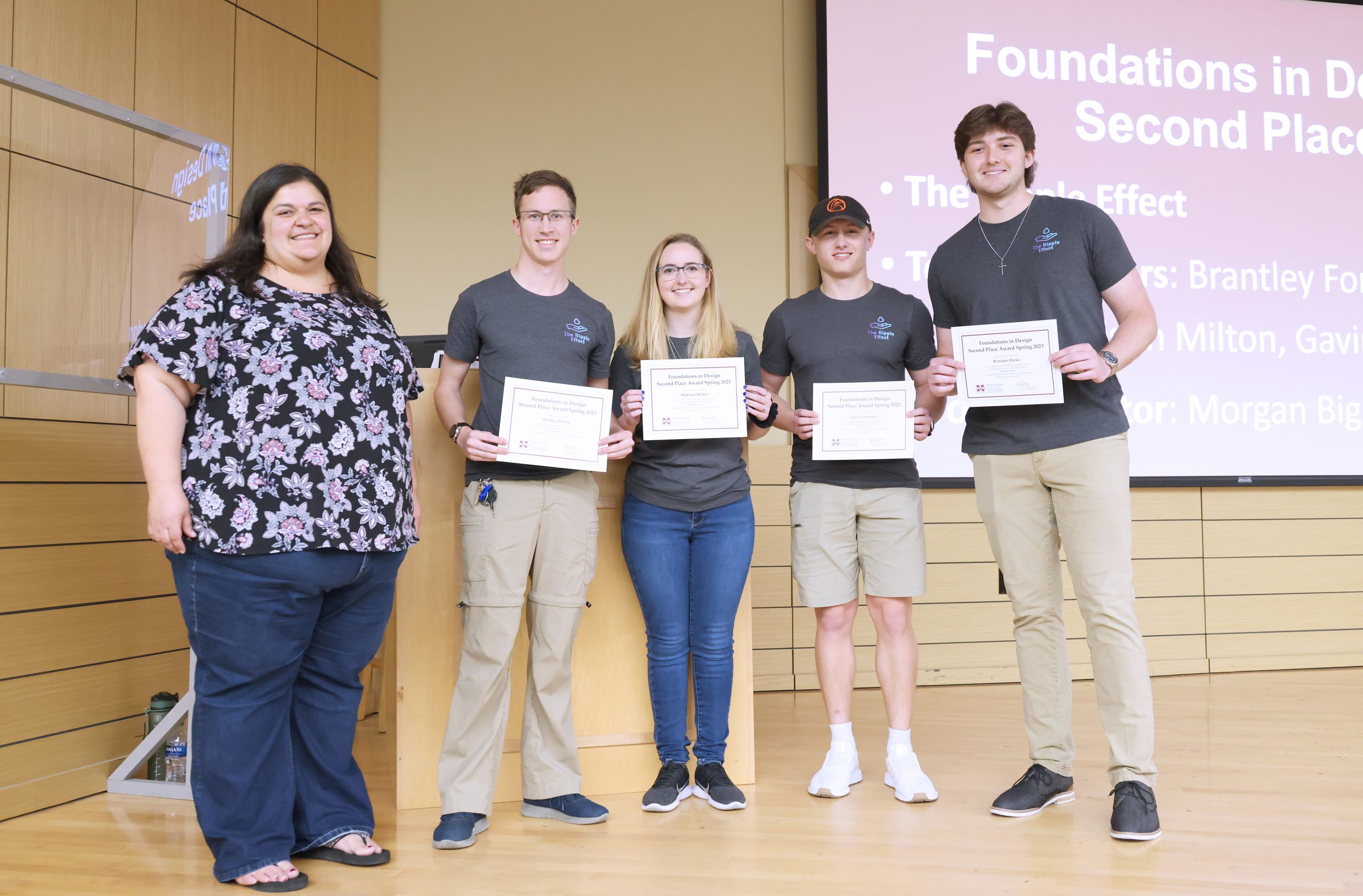 Second place: Brantley Forrest, Brendon Marks, Madison Milton, Gavin Timmons
Project: The Ripple Effect. The Ripple Effect monitors the drinking quality of well water. Two sensors test different water parameters and indicate the drinkability with an LED and small display.
Project Mentor: Morgan Bigej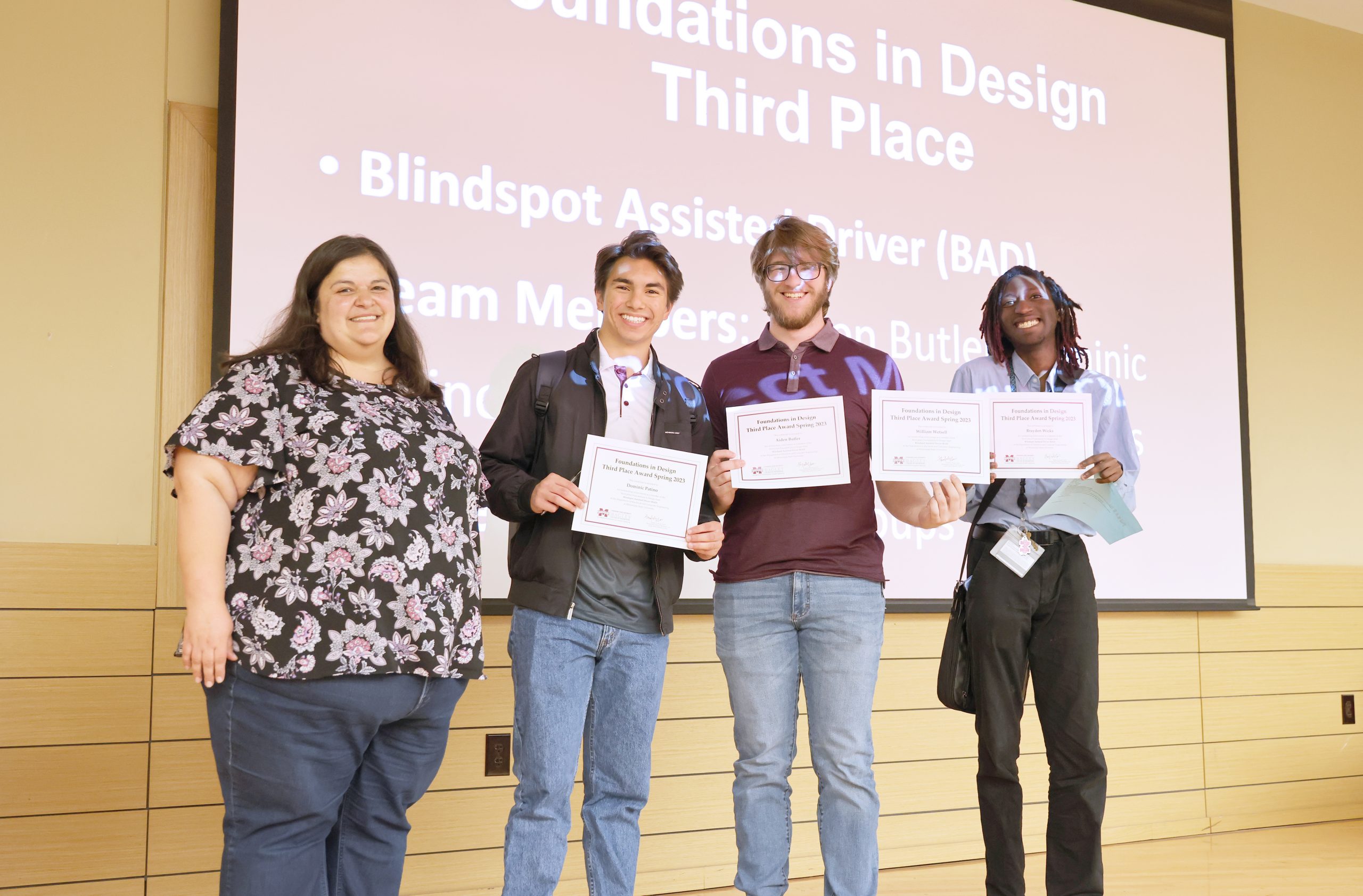 Third place: Aiden Butler, Dominic Patino, William Wetsell and Brayden Wicks
Project: Blindspot Assisted Driver (BAD), a blindspot sensor that can be attached to any car and will signal to the driver whenever something enters the car's blindspots using LED lights.
Project Mentor: Eric Toups
Capstone Design II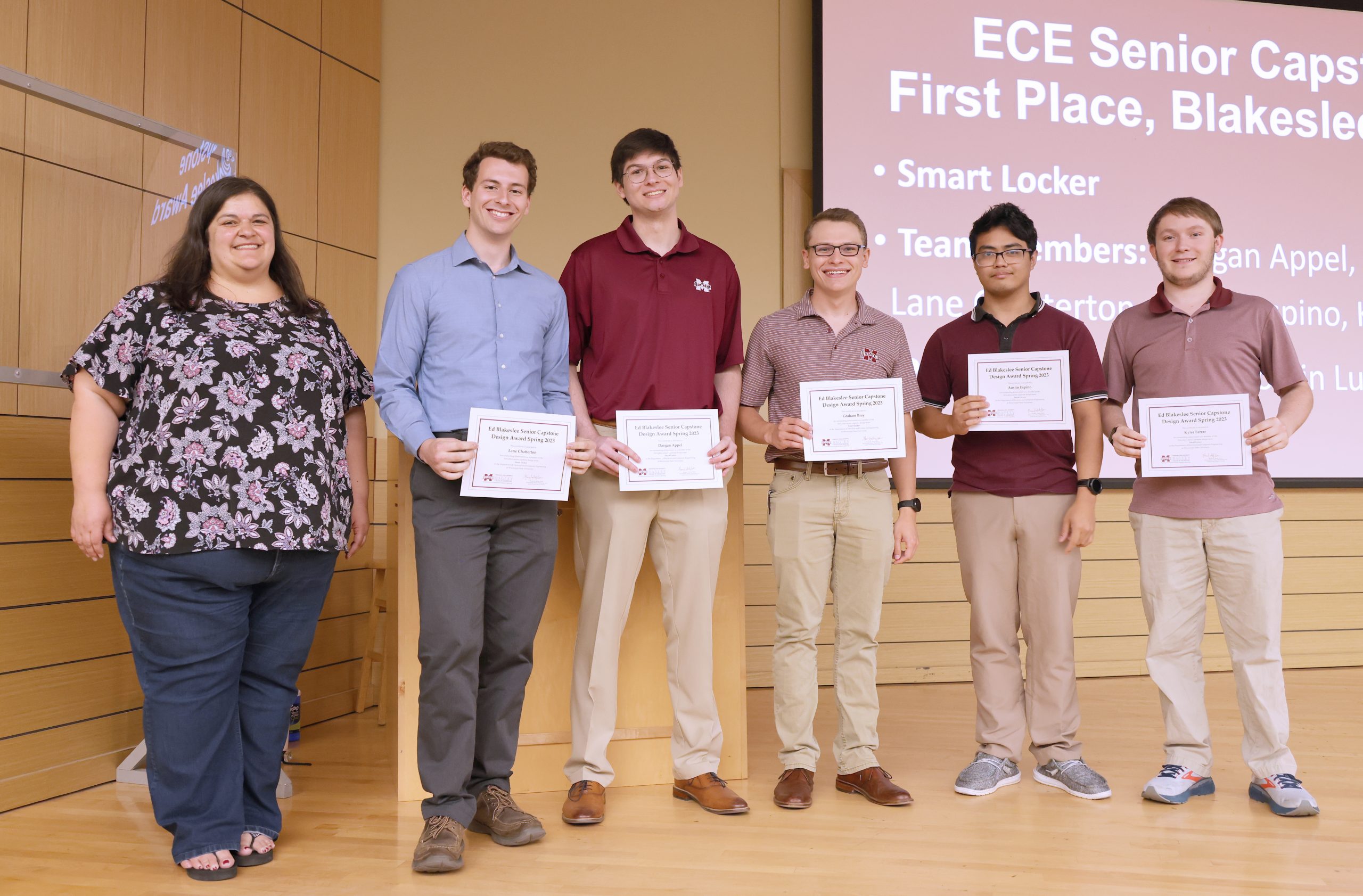 First place: Daegan Appel, Graham Bray, Lane Chatterton, Austin Espino and Kyler Farrar
Project: Smart Locker, a modular locker system designed for collaborative spaces, such as makerspaces, to share tools and resources. Lockers can be configured to fit the needs of any space, and the accompanying web application enables users to view, reserve, track, and manage the inventory.
Project Advisor: Chaomin Luo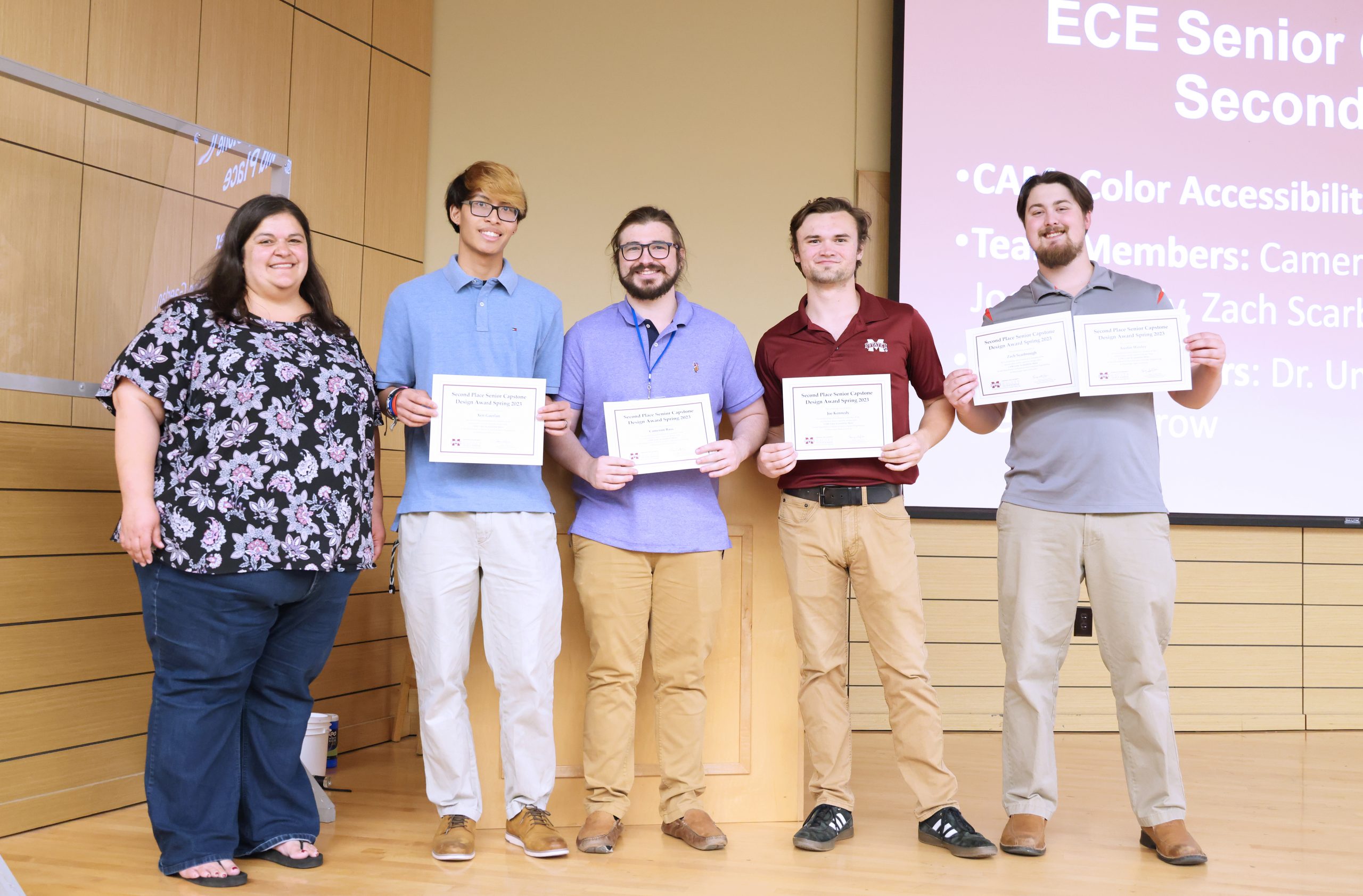 Second place: Cameron Bass, Xen Gaerlan, Joe Kennedy, Zach Scarbrough and Austin Wesley
Project: CAM: Color Accessibility Meter. CAM is a handheld electronic colorimeter designed to assist colorblind individuals in daily life. The device allows a user to scan an object and return the name of that object's color and color code. CAM also hue shifts the color of an object to a more distinguishable hue based on the selected colorblind setting. CAM supports all major variations of colorblindness and offers a range of accessibility settings to ensure peak color detection and accuracy in most lighting conditions. With its long battery life, portable design, and affordable manufacturing cost, the CAM handheld is the perfect solution for anyone living with colorblindness.
Project Advisors: Umar Iqbal and Kendra Farrow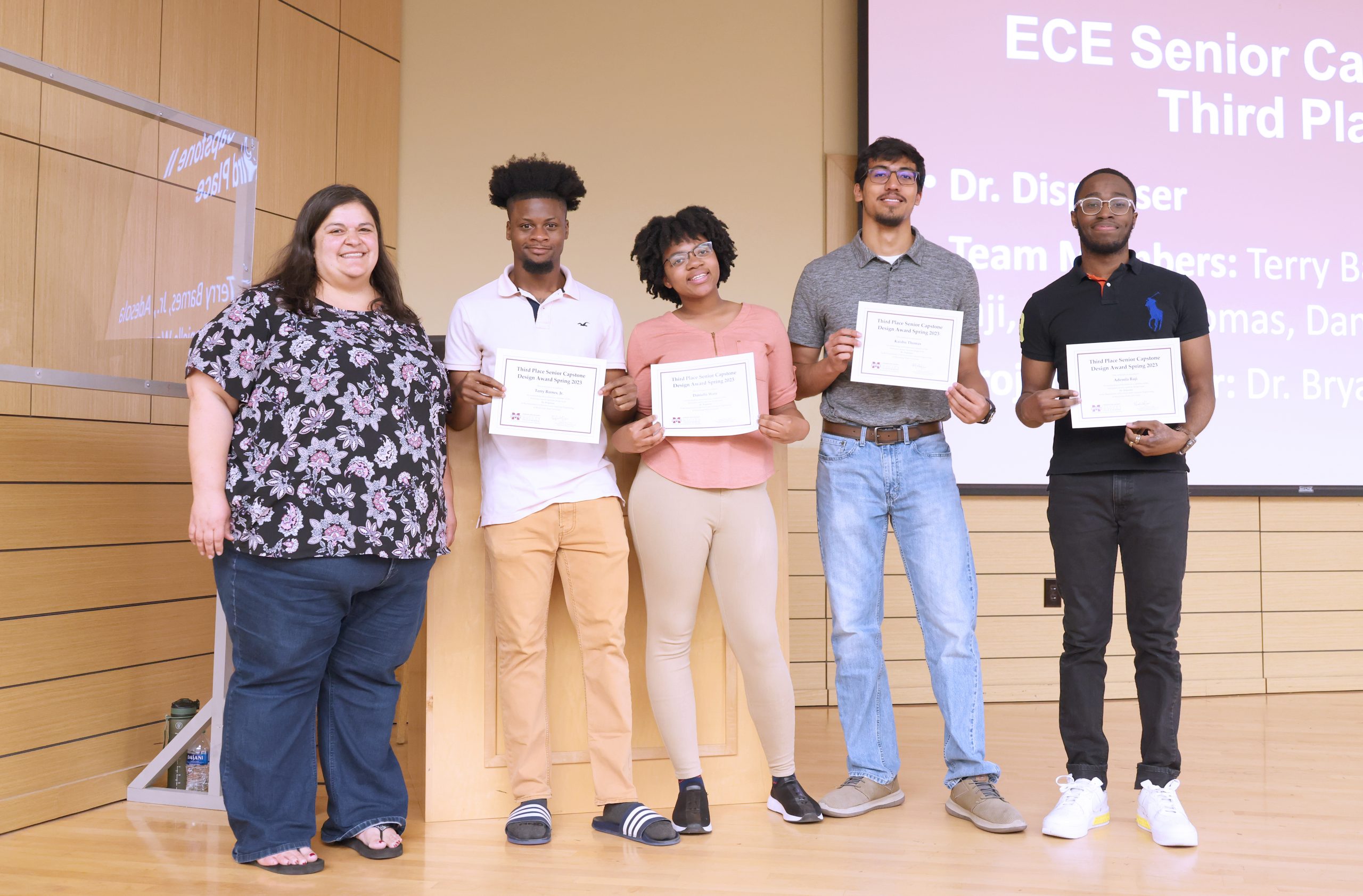 Third place: Terry Barnes, Jr., Adesola Raji, Kaishu Thomas and Danielle Ware
Project: Dr. Dispenser, an automatic medication dispenser.
Project Advisor: Bryan Jones