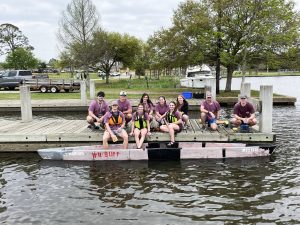 Concrete cornhole, steel bridge aesthetics and surveying were just a few of the competitions Mississippi State University civil engineering students placed in at the 2023 American Society of Civil Engineers Gulf Coast Symposium.
The symposium, held at the University of South Alabama on March 9-11, allowed students to develop their leadership skills further while engaging in months-long projects and competing against other universities across Alabama, Louisiana and Mississippi. Thomas Lynn, the faculty advisor for MSU's ASCE student chapter, said to have MSU place in competitions spoke volumes about the students' hard work.
"The entire team worked together for seven months to achieve these results, and I am proud of what they accomplished at this symposium," Lynn said. "Special thanks to former faculty member Hub King for advising the surveying team and to Don Cagle for his contributions as a practitioner advisor."
Winners and placement in each category are as follows:
Surveying, first place - Perry Foster, Landon Rhodes (Captain), Alison Rinomhota, and Coleman Vaughan
Steel Bridge Aesthetics, second place - Wilson Benton, Jordan Cockrell, Mason Cox, Layton Hughes, Zachary Knuckey (Captain), and Jack Slay. Additional contributors included Grace Anne Copell, Courtney Gill, Peyton Joyner, Montana Lang, and Kylan Welford.
Concrete Cornhole, third place - Zachary Knuckey and Layton Hughes, with Jordan Cockrell and Zachary Knuckey constructing the board
Tableau Paper, third place - Olivia Keeter