Bagley to expand robotics program through Toyota USA Foundation grant
April 13, 2017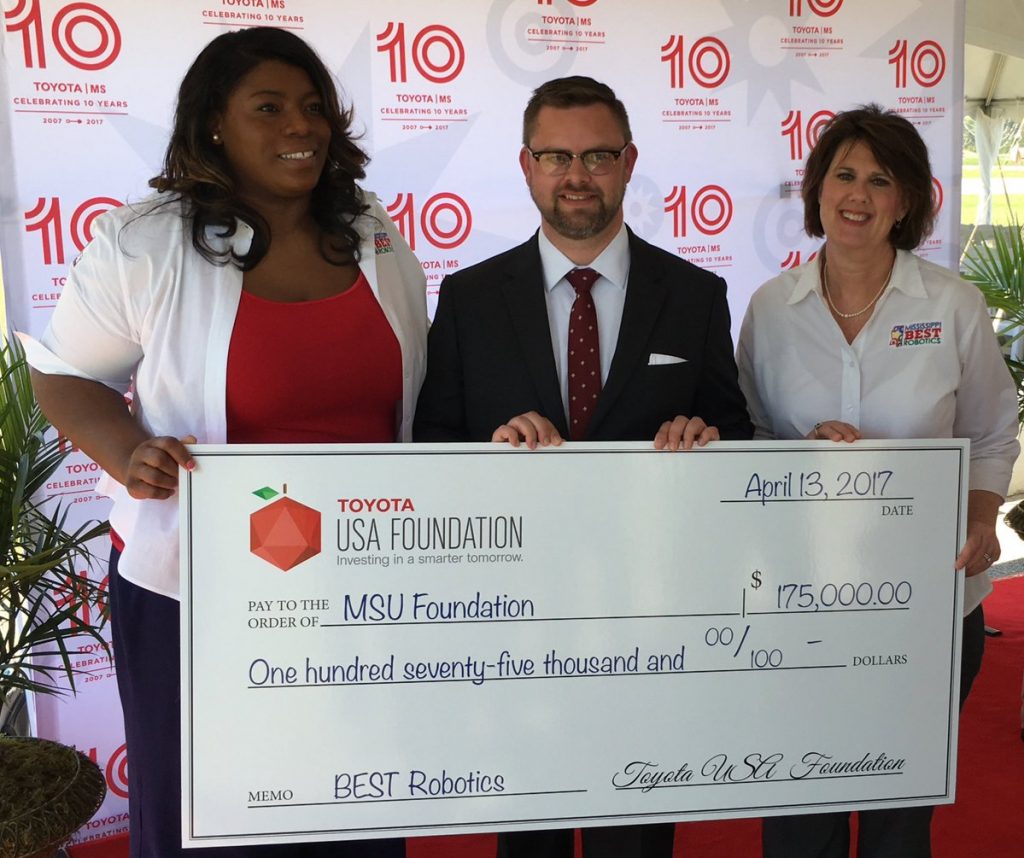 With a $175,000 grant from Toyota USA Foundation, Mississippi State University's Bagley College of Engineering plans to expand its outreach to middle and high school students throughout Mississippi via the Boosting Engineering Science and Technology (BEST) Robotics program.  The program currently serves 25 teams at local school and aims to expand to 30 teams this year.
The program helps to expose and recruit students to pursue STEM degrees, particularly engineering, providing a hands-on learning experience designed to increase interest in the field and develop critical skills.  Through the program, students participate in a six-week robotics competition, where they design, build and present a robot that is created to complete specific tasks with real world applications. Working engineers and other technical professionals serve as team mentors.
"Mississippi State University's BEST Robotics program is an excellent way to create excitement for STEM, delivering important project-based skills that help students excel in the classroom and in the workplace," said Michael Medalla, manager of the Toyota USA Foundation. "Along with building skills for the next-generation of jobs, the competition also helps increase community awareness for the role engineering plays in innovation, manufacturing and community growth."
Students also design and construct a trade show-like vendor booth and make a formal marketing presentation about their robot, which helps develop leadership, budgeting and public speaking skills.
"We are extremely grateful to the Toyota USA Foundation for their support of Mississippi BEST Robotics," said Dr. Vemitra White, director of educational outreach and support programs for the Bagley College of Engineering. "We're striving to help develop the workforce of the future, meeting demands of the US and especially in Mississippi, by getting students involved in science, technology, engineering and mathematics programs that are both educational and entertaining."
The grant is the largest made to the Mississippi BEST Robotics program to date.
About Toyota USA Foundation
The Toyota USA Foundation, a charitable endowment with over $100 million committed to enhancing the quality of education, supports innovative programs and builds partnerships with organizations that are dedicated to improving the teaching and learning of science, technology, engineering and mathematics. For additional information about the Toyota USA Foundation, please visit http://www.toyotagrants.com/foundation.
About the Bagley College of Engineering
The Bagley College of Engineering at Mississippi State University offers degree programs in eight different academic disciplines and is consistently ranked among the nation's best undergraduate, graduate and distance programs by U.S. News and World Report. The Bagley College of Engineering is online at bagley.msstate.edu. You can also follow us on Facebook, Twitter and Instagram by searching for @msuengineering.
By: Philip Allison