BCoE faculty selected as JSTARS editor-in-chief
October 2, 2015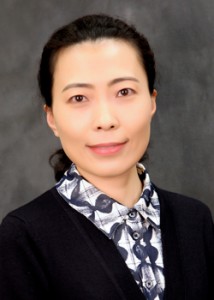 STARKVILLE, Miss. — Bagley College of Engineering faculty member Qian (Jenny) Du has been named the new editor-in-chief of the IEEE Journal of Selected Topics in Applied Earth Observations and Remote Sensing (JSTARS).
As editor-in-chief, she will be responsible for the review and publication process, as well as seeking science for publications and promoting the journal in the international remote-sensing community. Du is currently transitioning into the new title and will officially begin in 2016.
"This is a challenging position due to the heavy work load," Du said. "I will have, however, more chances to see the best research from the best scientists worldwide."
Published monthly by the IEEE Geoscience and Remote Sensing Society, JSTARS receives around 1,300 submissions and was ranked in the top 17 percent of IEEE publications in 2014.
A doctoral graduate from the University of Maryland, Baltimore County, Du holds the Bagley College's Bobby Shackouls Endowed Professorship in Engineering. Her research focuses on hyperspectral imaging and analysis in remote-sensing.
During her 15-year academic career, Du has authored about 100 referred journal articles on topics related to her research. She is also an International Society for Optics and Photonics (SPIE) fellow.
BCoE electrical and computer engineering department head Nick Younan said Du's new duties should greatly enhance an already successful career.
"Dr. Du has an outstanding record of research, scholarly activities and service to her profession," he said. "Her appointment as editor-in-chief to one of the premier journals within the IEE Geoscience and Remote Sensing Society is a great recognition."
Since joining the Bagley faculty in 2004, Du has been honored with MSU Faculty Research, Outstanding Researcher, Hearin Faculty Excellence and Schilling Teaching awards.
For more information on JSTARS, visit www.grss-ieee.org.
More information about the Bagley College of Engineering can be found at www.bagley.msstate.edu.
By: Emile Creel