Civil engineering senior earns national scholarship
May 5, 2014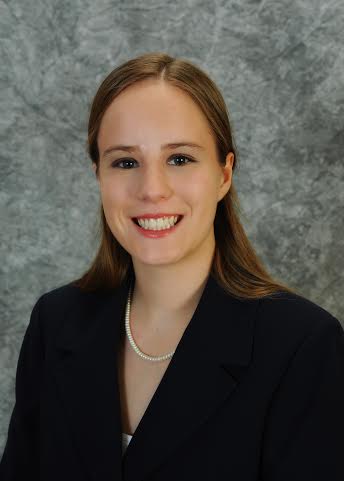 STARKVILLE, Miss. – A Bagley College of Engineering senior has received a national scholarship from an industry-leading organization.
Samantha Frederick, a civil engineering major, will receive the national Brother B. Austin Barry Scholarship from the Chi Epsilon Civil Engineering Honor Society.  The $3,500 award is one of 10 national scholarships awarded annually by the organization.
"I am honored to receive the scholarship honoring the prestigious civil engineering professor and author Brother B. Austin Barry," Frederick said.  "The Bagley College of Engineering has provided a great education and opportunities to apply what I have learned in the classroom.  I hope all students will make time to participate in professional societies in their chosen field."
Each of Chi Epsilon's 10 districts nominates two student members for the organization's national scholarships.  The nominees must then complete the application and submit a resume, two recommendation letters and a personal essay.  Applicants are judged on these submissions as well as grade point average, work and research experience, leadership, service, and academic honors.
In addition to this award, Frederick has received several other academic scholarships.  Most recently, she was awarded the Deep South Institute of Transportation Engineers (ITE) Scholarship.  She is a member of the Tau Beta Pi National Engineering Honor Society and Phi Kappa Phi National Honor Society.
Frederick currently serves as the president of Engineers Without Borders at Mississippi State.  The chapter's primary project seeks to bring clean water to a village in Simwatachela, Zambia.  She also serves as vice chairwoman of Civil and Environmental Women and treasurer of ITE.  As a member of ITE, she was part of a four-person team that recently won the deep south district transportation bowl in New Orleans.
Frederick is a co-op student at NASA's Marshall Flight Center in Huntsville, Ala.  Last summer, she worked at the center bench-testing technology to mitigate vibrations in buildings and flight technology.  She is also a NASA student ambassador.
As an active member of the community, Frederick organizes volunteer projects with organizations such as Habitat for Humanity and works as a tutor at local schools.  On campus, she helps freshmen engineering students make social and technical connections within the BCoE as the Engineering Living Learning Community lead mentor.
Founded in 1922, Chi Epsilon honors civil engineering students and professionals who exhibit scholarship, character, practicality, and sociability.  As the national civil engineering honor society in the United States, it seeks to improve and maintain the profession through the development of character and technical ability of its members.
For more information about Chi Epsilon, visit www.chi-epsilon.org.
The Bagley College of Engineering is online at www.bagley.msstate.edu.
By: Erin Boozer