Mazzola receives BCoE career award
June 24, 2015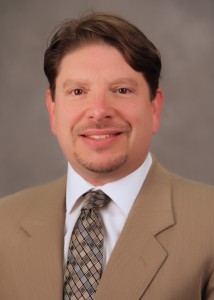 STARKVILLE, Miss. – Twenty years of outstanding service has earned career recognition for one Bagley College professor.
Michael S. Mazzola, a professor in the department of electrical and computer engineering, received the 2015 Career Achievement Award from the Bagley College of Engineering. This award is presented each year to a faculty member who has excelled in teaching, research and service for more than 15 years.
"We are proud of Mike's accomplishments at Mississippi State University throughout all facets of his career," said Jason Keith, dean of the Bagley College of Engineering. "It is noteworthy that beyond his students his work has also had a significant economic impact."
In addition to his role as a teacher, Mazzola serves as an associate director of the Center for Advanced Vehicular Systems and as the Jack Hatcher Chair for Entrepreneurship through which he oversees the college's entrepreneurship certificate program. He says he hopes his work in these roles helps students recognize their potential and develop a love for learning.
"I want my students to have a passion for developing their own intellect," Mazzola explained. "I advise students that Mississippi State University is an environment like no other and they should make the most of it while they are here."
When listing his career highlights, Mazzola names his graduate students and the work they are doing in their careers as his proudest achievement. However, he considers his biggest achievement to be the creation of SemiSouth Laboratories, a semiconductor manufacturer that operated for more than a decade.
"What that company developed, produced and sold is still being used around the world by people who cherish the parts we made," Mazzola said. "And all of it happened at Mississippi State University because we were encouraged to be entrepreneurs."
Mazzola holds bachelor's, master's and doctoral degrees in electrical engineering from Old Dominion University. He has received more than $30 million in research funding, including grants from the Office of Naval Research, Pacific Northwest National Laboratories, the Environmental Protection Agency and the Air Force Research Laboratory. He holds 14 patents and published patent applications and has more than 60 publications to his name.
For more information about the Bagley College of Engineering, visit www.bagley.msstate.edu.
By: Kristen Polk