Mechanical engineering senior earns recognition from statewide organization
March 10, 2017
Morgan Green, a mechanical engineering student in the Bagley College of Engineering, was recently honored as Mississippi State's Outstanding Engineering Senior by the Mississippi Engineering Society.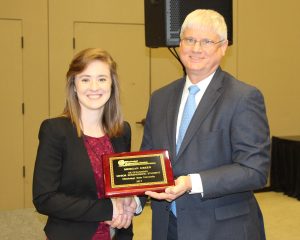 Green, an Olive Branch native, will graduate from MSU in May 2017 with a Bachelor of Science in Mechanical Engineering. Upon graduation, she plans to attend graduate school to pursue a Master's and, later, a doctorate.
During her time as an undergraduate, Green worked as a student grader for Bagley's mechanical engineering department, an office assistant for Armstrong Transportation and a research assistant for MSU's Center for Advanced Vehicular System (CAVS) where she created stress-strain curves for materials using data from tension tests. Despite her experience with CAVS, Green wants to focus her studies in fluid and thermal sciences in mechanical engineering while pursuing her graduate degree.
Additionally, Green has remained active on campus throughout all four years at MSU. She was involved in the Montgomery Leadership Program, The Famous Maroon Band and the Mechanical Engineering Ambassadors. Green was also a member of Phi Kappa Phi, Gamma Beta Phi and Tau Beta Pi.
The Bagley College of Engineering is online at bagley.msstate.edu. Follow us on Facebook, Twitter and Instagram by searching for @msuengineering.
By: Devin Edgar