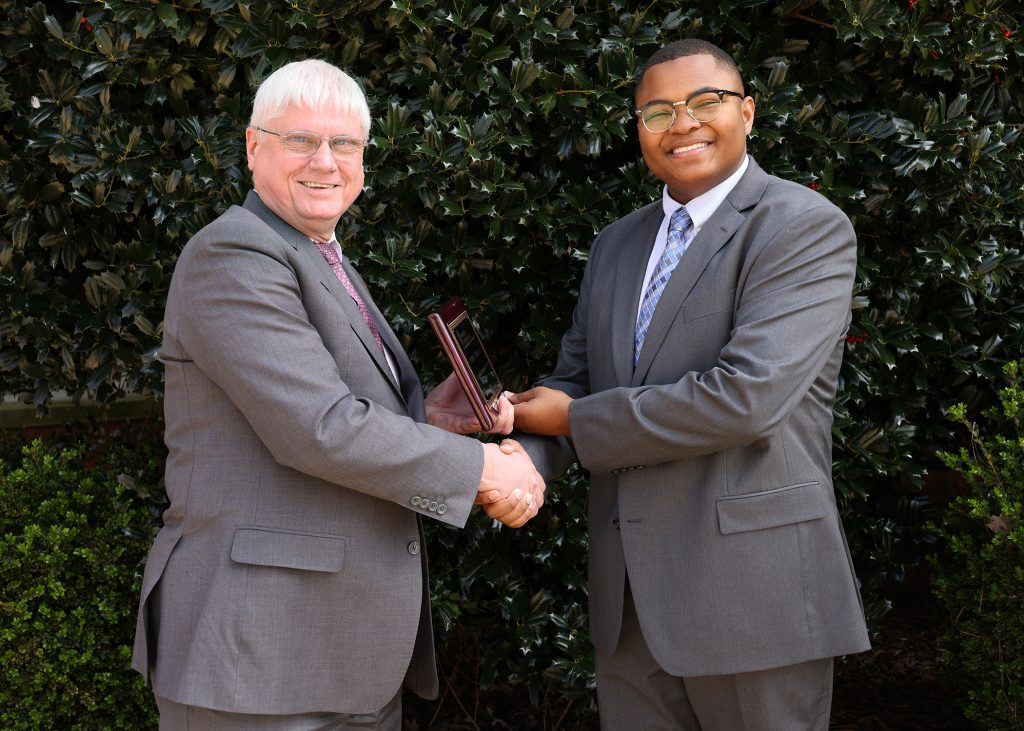 Biomedical engineering major Christopher Robinson has been named Mississippi State University's 2022 Outstanding Engineering Senior by the Mississippi Engineering Society.
Robinson, a senior from Brookhaven, Mississippi, has been involved on campus and in the Bagley College of Engineering throughout his time at Mississippi State. He became involved with BEAM, the Biomedical Engineering Association of Mississippi State, during his first few weeks on campus and joined the communications committee to meet even more people.
"I really found a community within biomedical engineering," Robinson said. "I got to meet a lot of different faculty members, also got to meet other students, upper class students, that have really helped me along my way. This was my first interaction really getting involved with the college."
Since then, Robinson has been involved in the ONE Campaign as vice president of programming, the social media chair of the Global Brigades chapter at MSU and a member of the Mississippi State University Student Association. He is a Rhodes Scholarship Finalist as well as a Harry S. Truman Scholarship Finalist. Robinson, who is also minoring in political science, has attended the Public Policy and International Affairs Junior Summer Institute at Princeton University.
Being a first-generation college student, Robinson was able to lean on the Bagley College of Engineering for support throughout his undergraduate education.
"I will say the engineering department has been very nurturing. What I really enjoy is the diversity of thought and background," Robinson said. "Getting to meet other engineers and have these dual interests, that really helped me feel at home and helped a lot with my college transition, because I didn't come into an environment that was completely just focused on one topic."
Robinson will be attending the University of Oxford this summer to study social epidemiology and take a course on C.S. Lewis. Post-graduation, Robinson plans to take a gap year to work in Washington, D.C. to focus on health policy, and then attend medical school for the fall of 2023.
Robinson reflected on being honored as the Outstanding Engineering Senior at Mississippi State.
"It meant a lot to me in the sense that I wouldn't call myself a traditional engineer. I'm not someone who necessarily wants to go directly to industry and practice engineering in the traditional sense," Robinson said. "I felt really heard and validated to have an opportunity to show other engineering students that you can do more than just be in engineering in industry in that sense, that you can use that skillset in a lot of different realms."
The Bagley College of Engineering is online at www.bagley.msstate.edu and can be found on Facebook, Twitter, Instagram and YouTube at @msuengineering.
MSU is Mississippi's leading university, available online at www.msstate.edu.
By Emily Cambre