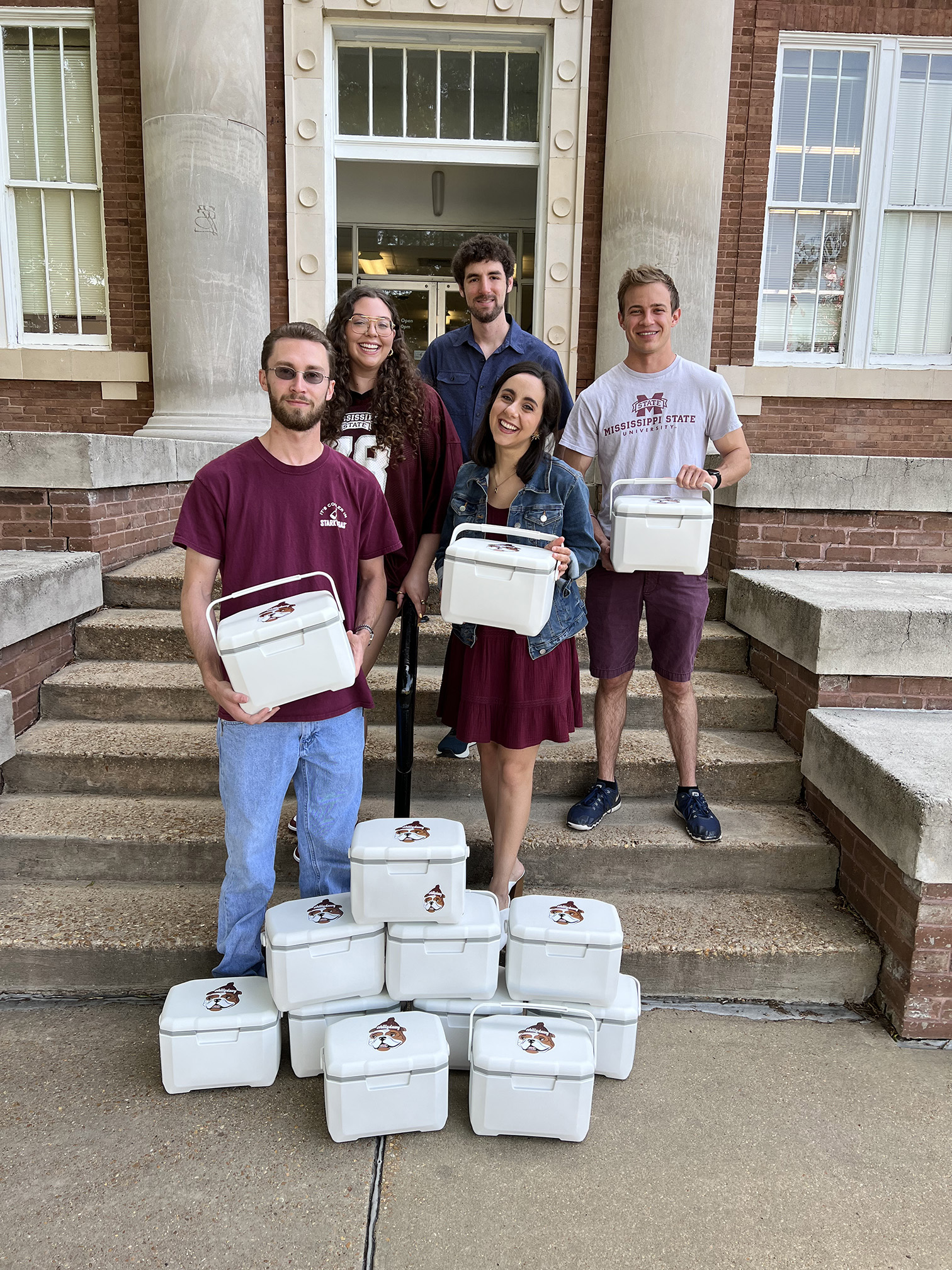 A group of Mississippi State students has created a sustainable cooler made from recyclable materials with help from the Dow Chemical Alumni Fund.
The group of students called the Chilly Dawgs participated in the mechanical engineering senior design capstone course, where they created the cooler. The course works directly with different companies to allow students to gain industry experience as a type of externship through class credit.
Dow Chemical, through the Dow Chemical Alumni Fund, was one company that sponsored a project for the senior design course. The company's purpose is to deliver a sustainable future through its materials science knowledge and collaborations with partners. It is focused on sustainability, and the company knew it wanted to work on a project with Mississippi State students that put sustainable materials at the forefront.
Dow Chemical, along with senior design faculty advisor Ross Smith, came up with the idea for students enrolled in the course coolers from recycled materials.
"We were gracious enough to be awarded an opportunity to work on a Dow Chemical project. One of the main priorities for Dow Chemical is sustainability. As a company, they're really focused on being more green, creating less of an environmental footprint of what they do," Smith said. "That's where we came up with the coolers. The goal was to develop coolers from recycled materials on Mississippi State's campus."
As a part of the partnership, the coolers are branded with the Mississippi State University and Dow Chemical logos. Smith plans to use these coolers as gifts to Mississippi State alumni that work at Dow Chemical. The coolers are also sporting event friendly by meeting size specifications for Mississippi State baseball games.
Smith was very proud of the Chilly Dawgs and what they accomplished this year in his class.
"The team did a really great job. Even when an obstacle came up, they didn't quit. They found different avenues to be successful," Smith said. "I think that's a good example of what mechanical engineers are, especially ones from Mississippi State. All of our alumni that work out in the field, whether it be industry, research or government-based, I feel like whenever they get hit with an obstacle, they understand that it's not a direct no and that there's a way to overcome it and find some sort of solution to help meet the needs for the project."
The Chilly Dawgs included mechanical engineering students:
CARRIERE – Christian Arcement
BASSFIELD – Brian Broom
PICAYUNE – Marella Failla
CARRIERE – Mary Mederos
GULFPORT – Kyle Stallings