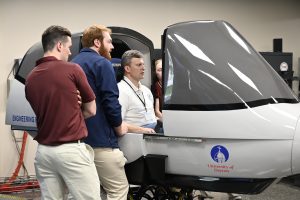 Two teams of students from Mississippi State University's Department of Aerospace Engineering's aircraft design classes placed in the 2023 IT FLIES Flight Simulation Competition.
The competition, hosted by Merlin Flight Simulation Group, was held at the University of Dayton in Dayton, Ohio, this past April. Merlin Flight Simulation Group organizes a unique Aircraft Design and Handling Competition each year. Entries are invited from university students either as teams or individuals. Students can compete in two categories, Best Flight Handling and Best Presentation. The Best Flight Handling category is judged by the 'flying' and assessment of the aircraft designs in one of Merlin's simulators by two test pilots. The winner of the Best Presentation category is determined by a ten-minute presentation about each team's aircraft design.
One Mississippi State team won second place in the Best Flight Handling category with its FAF-10, a large four-engine aircraft designed to combat fires. That team also placed second in the Best Presentation category. The second MSU team won first for its amphibious aircraft designed to carry 19 passengers and two crew members. Calvin Walker, who teaches the aircraft design courses in the Department of Aerospace Engineering, said that while the Mississippi State teams had to overcome obstacles during the competition, that made placing even more rewarding, along with getting to experience a real-world understanding of flight simulation.
"It gives the students an understanding of how to create and use modeling and simulation in the real world. The Merlin flight simulator is an education engineering teaching tool introducing the students to real-world flight dynamics simulation," he said.
Merlin Flight Simulation Group is the manufacturer and the established market leader of the world's most advanced aircraft design real-time Engineering Flight Simulators for use in teaching aeronautical and aerospace engineering.