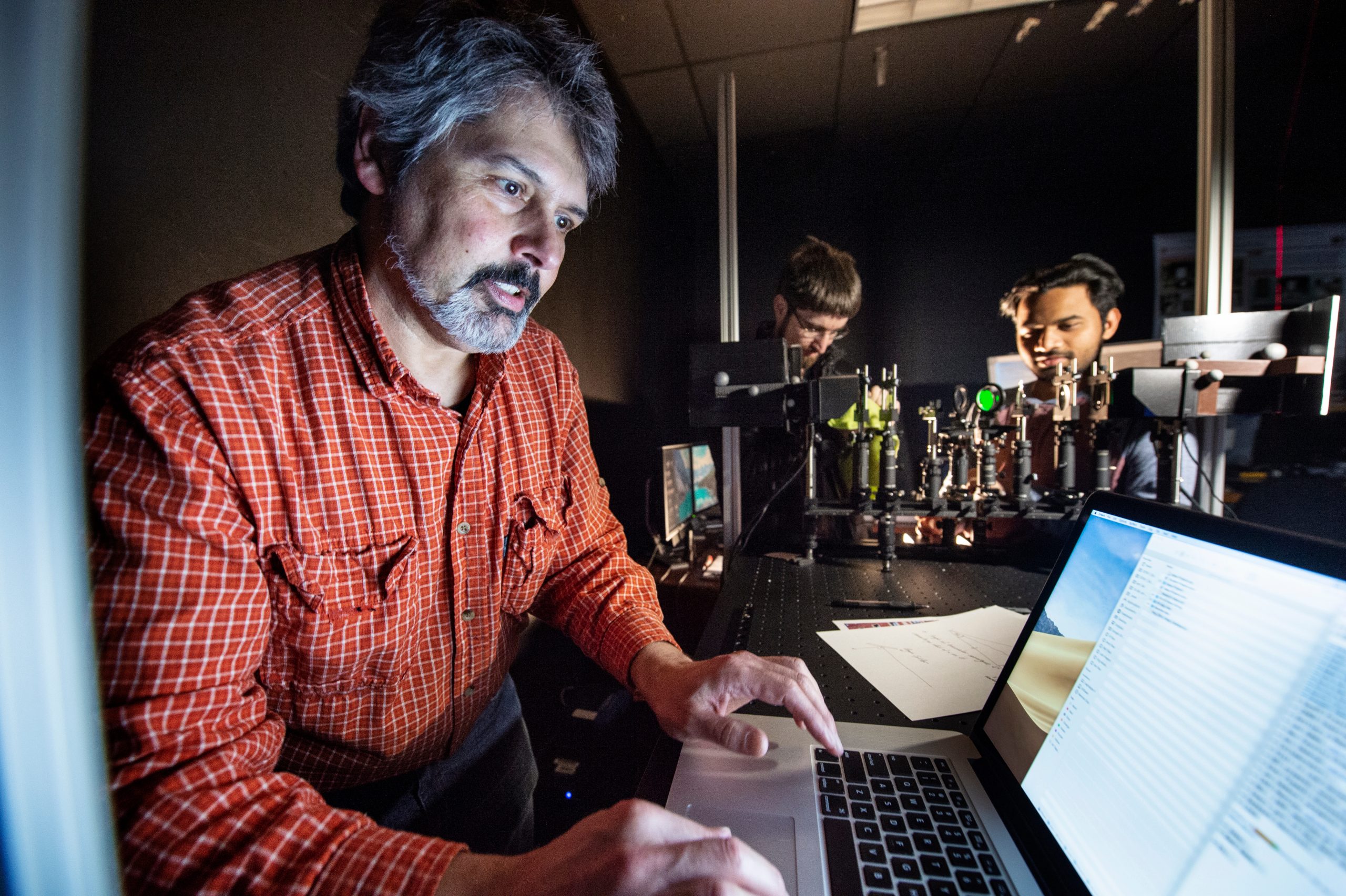 A Department of Computer Science and Engineering faculty member has gained recognition after being awarded the highest award in his academic field.
Ed Swan's paper "Perceptual Issues in Augmented Reality Revisited" has been awarded the Institute of Electrical and Electronics Engineers' 2022 Impact Paper Award during the International Symposium on Mixed and Augmented Reality.
"Winning this award is the best feeling of all," Swan said. "In academia, we all hope to make an impact in our field, but to have the recognition and know that 100 years from now, the paper might still be cited is an amazing feeling."
This award, given once or twice annually, recognizes a paper, ten years or older, as having a lasting impact on the field of mixed and augmented reality. The paper, cited over 500 times, provides a classification of perceptual issues in augmented reality, created with a visual processing and interpretation pipeline in mind. Issues touched on in the paper are related to the environment, capturing, augmentation, display and individual user differences. The paper also highlighted issues associated with more recent platforms like handhelds and projector-camera systems. Throughout the paper, Swan and his co-authors, Ernst Kruijff and Steve Feiner, describe current approaches at the time to addressing these problems and suggest directions for future research.
"When you do any kind of research or scholarship, you are standing on the shoulders of those who came before you and hopefully providing some shoulders for people who will come later," Swan said. "Winning this award reassures me that I will be lifting future generations of scientists."
Swan's research has centered on augmented and virtual reality, perception, data science, empirical methods, human-computer interaction, human factors, and visualization. Currently, he is studying the perception and technology required to give virtual objects definite spatial locations, including depth and layout perception and depth presentation methods. He is also studying efficient data science tools and collaborating with social scientists to analyze social media data. The National Science Foundation, the Department of Defense, the National Aeronautics and Space Administration, the Naval Research Laboratory, and the Office of Naval Research have funded his research.
Kruijff is a professor of human-computer interaction and co-director of the Institute of Visual Computing at Bonn-Rhein-Sieg University of Applied Sciences. Feiner is a professor of computer science at Columbia University.
Swan holds a bachelor's degree in computer science from Auburn University and master's and doctoral degrees in computer science from Ohio State University. Before joining Mississippi State University in 2004, he spent seven years as a scientist at the Naval Research Laboratory in Washington, D.C. Swan is an ACM, IEEE, and IEEE Computer Society member. He has served many roles in the technical communities of IEEE Virtual Reality (VR), IEEE International Symposium on Mixed and Augmented Reality (ISMAR), and IEEE Visualization. He is currently the chair of the IEEE VR Steering Committee, which oversees the Virtual Reality annual conference meeting and publications. Previously, he served as one of the general chairs of VR 2021 and VR 2020 and as a program chair for ISMAR 2017, ISMAR 2016, VR 2015, and VR 2014. He is also a member of the ISMAR steering committee. In 2017 and 2018, he served as Interim Department Head of Computer Science and Engineering at Mississippi State University.