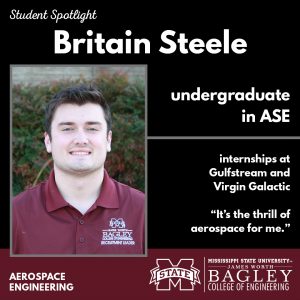 Not many students can say they found their future career while falling from the skies, but Britain Steele can.
"My best friend suggested a spontaneous skydiving trip, and I thought it could be fun," Britain said. "I remember sitting in the cockpit with the pilot, looking down 14,000 feet, and being pushed out of the plane. The only thing that could describe my experience is pure joy, and everything after that is history."
As his feet touched the Earth again, the then first-year college student, who was afraid of heights, knew his path in life had been changed. The next day he called Mississippi State and asked what he needed to do to change his major to aerospace engineering. Changing his major was the easy part. The hard part came during his first semester as an aerospace engineering student when the COVID-19 pandemic forced students to return home and continue classes online. Britain said he had a great advisor, Wenmeng "Meg" Tian, who saw what little work experience Britain had but took a chance on him anyway. In the spring of 2020,
Tian invited him to join his research team studying acoustics.
"That first semester, I told myself, 'Dr. Tian believes in me; I need to believe in myself.' Britain said. "I knew I was going to have to work hard to make sure that he had a deliverable project at the end of my first year, and I didn't know what it was going lead to. However, I respected him enough, and I wanted to learn how to respect myself enough to put in the work."
That hard work contributed to internship opportunities at Gulfstream and, more recently, Virgin Galactic. At Gulfstream, he was introduced to flight test engineering, one of his favorite aspects of aerospace engineering and one of the things he enjoyed the most about his time at the company.
"It's the thrill of aerospace for me. It's our responsibility to get people to and from their destinations safely, and I want to take that job seriously. That's what makes it so rewarding," Britain said. "In flight test settings and mission control, you're trying to be the best communicator possible. People are relying on you to ensure you get them back home safely to their families. I left work every day knowing I had challenged myself and contributed to helping others return home. That was the most fulfilling experience throughout all of my internships."
Britain went on to say that he felt pretty fortunate to work with test pilots during his internships, but his time at Virgin Galactic has stuck with him. He explained that he felt like a part of the team from the very start. He could talk to test pilots, ask them questions, and gain insight into what a day in the life of a test pilot looked like. While at Virgin Galactic, he also said he had opportunities to explore aviation. He flew gliders and fixed-wing aircraft, met with other young aviators, and even participated in flight simulation operations. The senior aerospace engineering student went on to say how much his internships have impacted him.
"Both my internships, first at Gulfstream and then at Virgin Galactic, have inspired me to be a flight test engineer and test pilot. I want to be a person that constantly challenges myself no matter my stage of life," Britain explained. "I know it sounds cheesy, but I always grew up with my dad saying to me, 'the sky's the limit,' but now nothing is. My passion is to chase after my fear rather than running from it, and I hope I get the chance to inspire others to do the same."