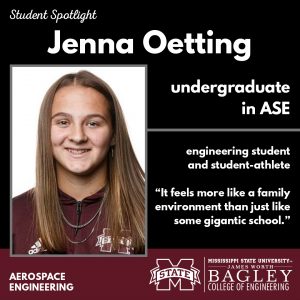 For Mississippi State student Jenna Oetting, time is valuable. It is also strictly scheduled. That's because the senior is a unique combination of engineering student and student-athlete.
Like most traditional students, Oetting attends class five days a week, but while many have part-time jobs outside of school, she practices with the track and field team six days a week. The Festus, Missouri native, throws javelin for Mississippi State and has since 2020 when, as a track and field manager, coach April Thomas had her throw javelin on a whim.
Oetting explained that most states don't have javelins in high school sports, but Missouri did when she was a junior. A camp in the small Missouri town, hosted by Festus native and Olympian Brittany Borman hosted a camp in the small Missouri town piqued Oetting's interest in the sport.
"I thought 'throwing sticks! That sounds like fun, so I might as well try it.'," she said with a laugh. "So, I did and really liked it. I ended up being pretty good at it. I threw for my high school for two years and then came to Mississippi State."
But javelin wasn't what brought Oetting to Mississippi State. It was the Bagley College of Engineering. She'd always known she wanted a degree in engineering, and an interest in airplanes influenced her to choose to major in aerospace. Eventually, she would like a career as a flight test engineer. After looking around the United States for programs that felt the most like "her," the aerospace engineering major realized Mississippi State was the perfect place for her.
"I really liked how the town is kind of like a small, but the university's campus is a big campus, but it's small at the same time," she explained. "I love that you can get everywhere by walking, but it feels more like a family environment than just like some gigantic school."
No matter the university's size, majoring in engineering and being a student-athlete is no small feat, and Oetting has to plan her days meticulously. She explained that being a full-time student with a 20-hour-a-week practice schedule means she walks out of her house at 6 am and often doesn't come back until 6 pm when she does homework and studies.
"Probably any student-athlete who's an engineer knows a lot about the rigorous schedule time management," she said. "Those who don't know or are incoming freshmen, I would say to stick it through if that's really what you want to do. At the beginning of my career, I had times when I failed tests, and it seemed like the end of the world, but it was not. You have to stick with it and see it through, but the time management skills have to be there."