Jessie Green knows something about getting out of her comfort zone.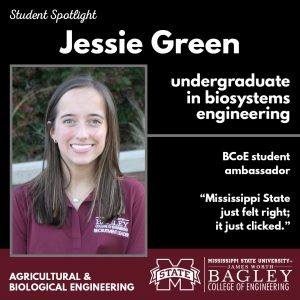 When she stepped onto the Mississippi State campus as a freshman for the first time, she didn't know anyone, but one thing she did know was that she was in the right place. Leaving her twin behind, who was attending another university, the Athens, Alabama native knew MSU was the place for her after coming on a tour.
"It just felt like home," the biosystems engineering major said, "Everybody here cared about me and asked me how I was and felt about choosing a university and the application process. Everyone made it a point to relate everything on campus back to me. Mississippi State just felt right; it just clicked."
That feeling and the people she encountered led Jessie to become a Bagley College of Engineering student ambassador.
"I wanted to give back to Mississippi State somehow," Jessie explained. "I owe a lot of who I am to this university. The people I've met and the friends I've made are all, to some extent, thanks to this university."
Jessie went on to say if incoming students were anything like her as a senior in high school, the decision of which university to attend is enormous. One bigger than anything they've decided before.
"When you're 17 or 18, picking where to go for the next four years is a huge decision. The biggest decision I've made to that point was nothing in comparison. You're deciding the beginning of the rest of your life," she said. "To be able to help someone through that and kind of give them clarity and make them feel welcome is an honor and a privilege."
When giving tours, Jessie said one of her favorite topics to talk to students about is the community she found here and how important it is to get involved. She mentioned that if it had not been for the encouragement of others, she would have never joined the organizations she's in, including Bagley Ambassadors. She goes on to say that there is an organization out there for everyone, even those unsure about joining a club. She encourages incoming students to check out the list of clubs on Orgsync.
"You might find something that you'll fall in love with, and it'll change your life," she said.
Which is how Jessie found herself signing up to be a Bagley College of Engineering Ambassador. Pulling from her own experience of not knowing anyone on campus, she wanted to put new and potential students at ease, as ambassadors did for her. She said that coming from a close family that includes her twin sister made it very hard for her to go to an entirely new and unfamiliar place. Jessie said that one thing she's learned during her time here is that growth only comes if you step outside your comfort zone. During that first year, she explained that she was sometimes scared and uncomfortable to step out of her comfort zone, but with that came excitement.
"I can definitely say I'm a better person than I was when I moved in August 2021."