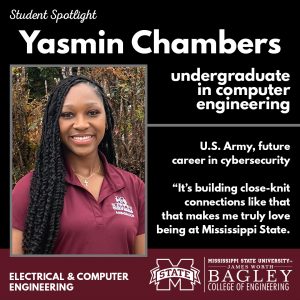 Mississippi State student Yasmin Chambers understands the importance of hard work and challenging herself. An athlete all her life, the computer engineering major is now applying those same fundamentals to her education and her military career.
"I had offers to play basketball in college, but as a senior in high school, I was burnt out and didn't want to do it anymore," Yasmin said. "I still wanted to do something mentally challenging and decided the Army was a good fit. I want to start a legacy for my family with the military and service. Also, I felt like I lived by the Army's values outside of being in the Army."
After enlisting at 18 years old, Yasmin completed basic training as a combat engineer, a role that is in charge of route clearance. From there, she attended a community college, graduating with an associate degree in computer engineering and later transferring to Mississippi State to continue her engineering education. The Jackson native explained that she's always had a love for computers. After watching a documentary on Alan Turing, who is widely considered the father of theoretical computer science and artificial intelligence, she began to explore the possibility of careers in computer science, an exploration that her time at MSU has encouraged.
"I've learned so much in the few months here. I'm constantly learning, doing hands-on activities and getting involved in organizations," she said. "Everything is more intentional here. I'm doing challenging labs, diving deeper into the material and establishing a family."
She continued by saying that her interactions with MSU professors have been exceptional. She recalls arriving on campus and emailing a professor in cybersecurity, explaining who she was and that she was interested in studying the field.
"He emailed me back and invited me to stop by his office to discuss what I wanted to study. It turned out he's retired military, so we had an entire conversation about that. And he guided me to the VICEROY program, Yasmin said. "He wrote my letter of recommendation, and it's building close-knit connections like that that makes me truly love being at Mississippi State.
As Yasmin looks towards the future, she hopes to establish a career in cybersecurity. She went on to say that because of her military experience, she understands the importance of cybersecurity. She also said she aims to be a role model for others looking to go into the field.
"I'm interested in learning about reverse engineering. I want to learn to break down devices and their components." Yasmin said. "Also, being a female and a minority in the field, I want to impact youth and show them that I can get to the top 1% of my field and with hard work, so can they. That and my military career play into what I want to do in the future."