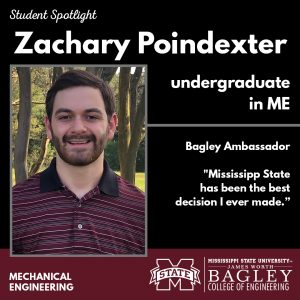 You can't replace home, not even if you tried. That's the conclusion Mississippi State senior Zachary Poindexter has come to as his college career draws to a close. Initially setting his sights on a different major and different university altogether, it was two classes in high school that changed his life's trajectory and helped the Starkville native realize that Mississippi State was exactly where he needed to be.
"I originally wanted to be pre-med, but quickly realized it wasn't for me. After taking a physics class, I knew engineering was a better fit," Poindexter explained. "And once I knew that, I knew that Mississippi State was the only place for me."
The mechanical engineering major spent his first two years concentrating on his studies. Like many, the adjustment from high school to college took a while to get used to, but after two years of mainly focusing on his studies, he began to feel like something was missing. A friend's encouragement made Poindexter apply for the Bagley College of Engineering Ambassadors program.
"Going from not being involved to being involved changed everything. Some of my best memories and my best friends in college have come from the Bagley Ambassadors," he said. "I love sharing my experiences with potential students. We give tours, we run academic insight, and we get to tell them about why we chose Mississippi State and engineering."
Applying for the program was a decision he explained that made all the difference in his college career. As he began settling in and getting more involved, the university in his hometown began to feel more like home. It wasn't just student life that helped do so. The faculty and staff at Mississippi State were vital in making the large Division One university feel smaller and more caring. During his time here, Poindexter never felt like just a number. He recalled being in a class of 300 fellow mechanical engineers when his professor began handing out graded assignments.
"She stopped in front of me and said, 'Hey Zach, here you go.' It amazed me because I had never introduced myself to her, but she'd taken the time to learn my name and face. It amazes me how in such a large school, we have so many students here in such a large environment, but these professors still know you."
As his college career began to come to an end, Poindexter reflected on his college experience, realizing quickly that Mississippi State and the Bagley College of Engineering were exactly where he was meant to be.
"Mississippi State has been the best decision I ever made. The university and the Bagley College of Engineering have done so much for me, it's given me a community, and I'm grateful to be able to give back to the university in some way through the Bagley Ambassador program.
By: Camille Carskadon