Theta Tau to host latest round of Theta Talks
October 19, 2017
As the country's foremost professional fraternity for the field of engineering, Theta Tau is always looking to push the edge of the discipline to new areas. And the Mississippi State University chapter of the organization is no different.
Utilizing the theme "EDGE: Educators, Discoverers, Geeks & Engineers," the group will hold another edition of its popular Theta Talk lecture series on Wednesday, October 25 beginning at 6 p.m. This semester's event will take place in Taylor Auditorium, which is in McCool Hall on the Mississippi State campus.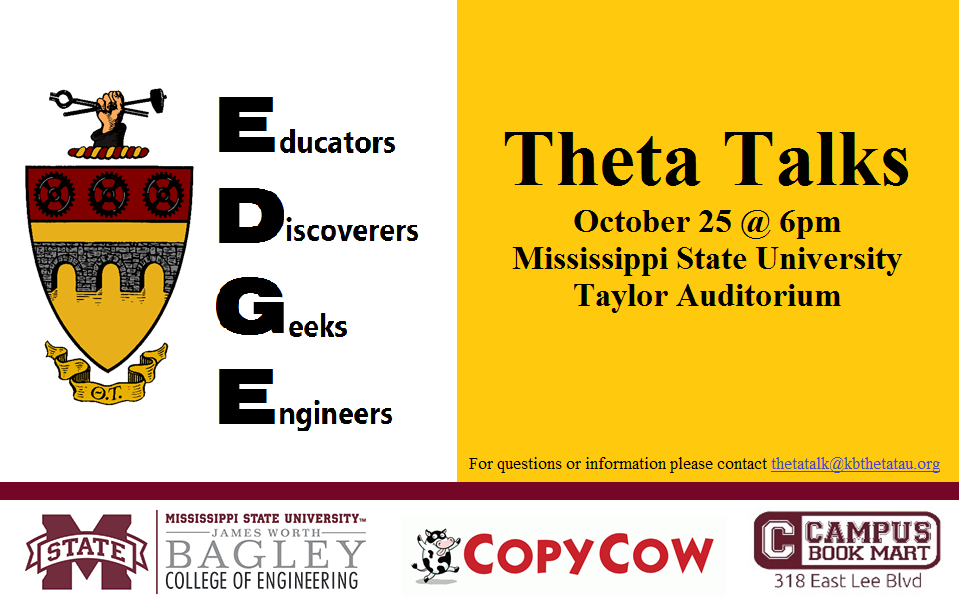 The event, co-sponsored by the Bagley College of Engineering, Campus Book Mart and Copy Cow, will feature 10-15 minute presentations from speakers across a variety of academic disciplines. Each speaker's presentation will feature their thoughts on where engineering is now and where it might be headed in the future.
But while Theta Tau may be an engineering fraternity, Theta Talks is open to both the larger university community and local residents.
"We hope this event will inspire the next generation of engineers, leaders, entrepreneurs, and professionals," said Cristy Gerth, Theta Tau's head of professional development. "Great story tellers are great teachers. All of our speakers are Mississippi State alumni, faculty, or staff. We want to highlight that there are amazing things happening in the world because of this university. We want to share that spirit of greatness. If our audience takes away the knowledge and experiences of others in order to build their own unique competitive edge, we will have accomplished our goal."
This year's panel includes:
Thomas H. Walker, P.E. – an industrial and systems engineer with Thomas H. Walker Consultants
Cindy L. Bethel, Ph.D. – associate professor of computer science and engineering at Mississippi State
Daniel Crist – CEO and founder of Akimbo Games and a Mississippi State electrical engineering alumnus
Carrie Olsen, Ph.D. – Chief, operations directors office and payload operations director for the international space station with NASA-MSFC.
Students from the Mississippi State chapter of the Student Veterans Association.
The event is free and open to the public. Engineer or not, students, faculty and staff are encouraged to come see where the future might be headed.
The Bagley College of Engineering is online at bagley.msstate.edu. Follow us on Facebook, Twitter, Instagram and YouTube by searching for @msuengineering.
By: Philip Allison