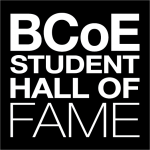 2018
Undergraduate Level
Brandon Bogle, ME
Priscilla Symmes, ChE
Anna Tocani, ChE
Bianca Thomas, ChE
Emily Turner, CE
Caleb Wilson, AE
Graduate Level
Roy Jafari, IE
Pan Wei, ECE
Nominations are closed.
Students may be nominated ONLY by Bagley College of Engineering faculty and staff and presidents of engineering student organizations.
Those eligible to make nominations are emailed a link to nomination form.