A blind spot monitoring system, collision sensors and an automatic spice dispenser took top prizes at the Department of Electrical and Computer Engineering Capstone Design Showcase.
The showcase, which occurs in the fall and spring semesters, featured twenty teams from the department's Capstone Design I and Capstone Design II classes. Students in these courses used their knowledge and skills to incorporate appropriate engineering standards, all while fabricating designs, testing projects and demonstrating fully functional projects. During the showcase, each team had the opportunity to present their projects to those who attended. First through third places were chosen.
The team that placed first in the showcase received the Ed Blakeslee Senior Capstone Design Award and $1,000. The Ed Blakeslee Senior Capstone Design Award was made possible through the generous donation of electrical engineer alumnus Ed Blakeslee. All projects and descriptions are listed below, starting with first, second and third place.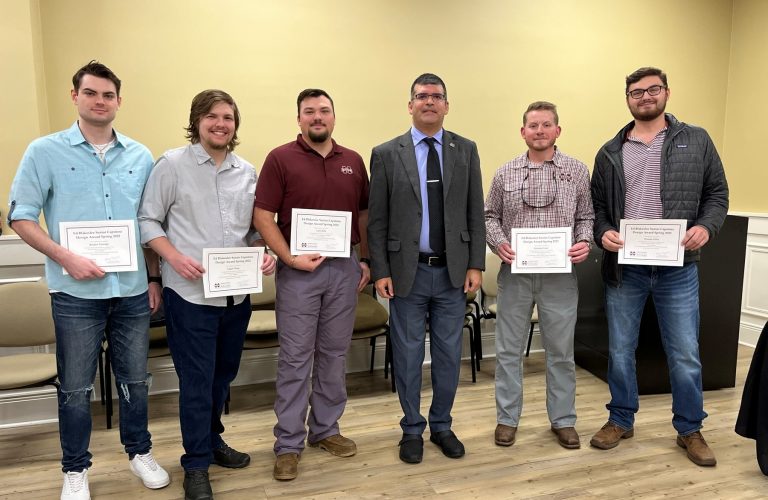 First place: The first-place team and winner of the Ed Blakeslee Senior Capstone Design Award was I.C.U. Truckers. Team members include Lane Belk, Klayton Greer, Braden Patridge, Logan Tharp, and Duncan Ziller, and the team's project advisor was associate professor Mehmet Kurum. The team created I.C.U., a blind spot monitoring system for semi-trucks and other large commercial vehicles.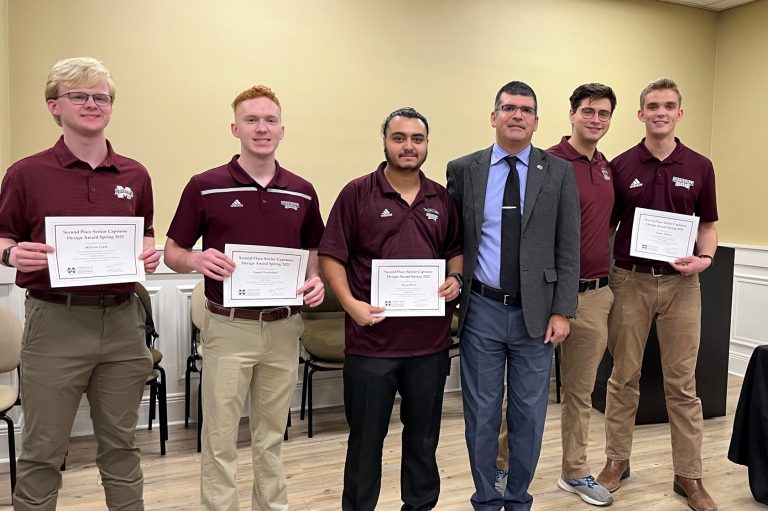 Second place: In second place was the Senior Capstone Design group Collide-O-Scope. The group created collision sensors for departments of transportation that indicate when guardrails are damaged in a car accident. Team members are William Clark, Ajaya Dahal, Zach Sahnger, Walker Thames, and Joseph Westerfield. Assistant professor Ryan Green served as the team's faculty advisor.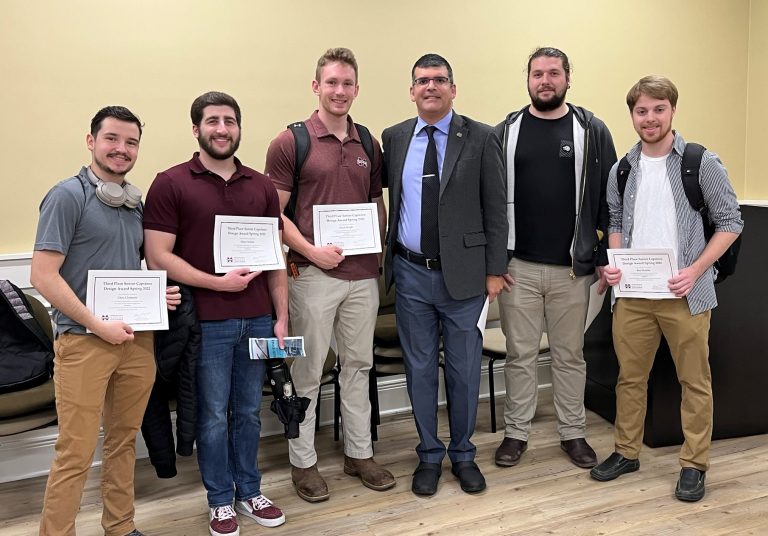 Third place: DisSpicer received third place for its project of an automatic spice dispenser, and its team members include Kolton Blann, Chris Clements, Ethan Marsh, Ben Murphy, and Noah Wright. Assistant clinical professor Umar Iqbal was the team's advisor.
Participating teams:
Kid Kruizer
Team Members: Kaitlyn Jackson, Timothy Barnette, Luke Blackburn, Morgan Bigej and Joshua Cotton
Project Advisor: Ryan Green
Kid Kruizer is a fully electric and motorized stroller with safety subsystems to better protect the child and guardian.
Package Safe
Team Members: John Diffey, Sofi Hastings, Luis Sanchez and Matthew To
Project Advisor: Ryan Green
Package Safe is a container designed to protect packages from threats such as theft and weather. The container detects when packages are delivered and removed, ensuring users always know the status of their deliveries. An alternative to a P.O. Box, Package Safe can be placed on a front porch or wherever the user desires.
Ram N' Go
Team Members: Charlie Payne, Dylan Myers, Mohamed Obeid, Michael Smith and Alex Phillips
Project Advisor: David Wallace
Ram N' Go is a ramen vending machine that also cooks ramen.
Automated Logos (AL)
Team Members: Jadwin Manuel, James Barcigalupia, Jon Beatty, Sam Linscott and Wes Davis
Project Advisor: Chaomin Luo
AL is a device that autonomously spraypaints lines and logos on a football field after the user uploads an image file of the desired logo. AL's general purpose is to minimize the manual labor and time spent painting football fields. AL's design accomplishes these goals by painting at a continuous speed while navigating the field.
Rain Away: Auto Wiper
Team Members: Austin Entremont, Tyler May, Gavin Shows, Jacob Clanton and Taylor Maples
Project Advisor: Umar Iqbal
Rain-Away is an intelligent system used to automatically control a vehicle's windshield wipers during the presence of rain. Users can easily install Rain-Away on their cars, and it will detect rain and turn on the windshield wipers. The Rain-Away device engages the wipers at a slow, medium or fast speed depending on the volume of rainfall, all to adjust the wipers hands-free.
CAM: Color Accessibility Meter
Team Members: Cameron Bass, Xen Gaerlan, Joe Kennedy, Zach Scarbrough and Austin Wesley
Project Advisors: Umar Iqbal and Kendra Farrow
The CAM handheld is a small-form factor electronic colorimeter with an emphasis on accessibility. It allows for live color classification and color conversion support for the most common types of color blindness. Additionally, the handheld returns color formatted in Hexadecimal, RGB and CMYK color formats. With its long battery life, portable design and affordable manufacturing cost, the CAM handheld is the perfect solution for anyone with colorblindness. Alongside our handheld device, the team is creating a standalone application for IOS and Android devices. This application will have access to the full functionality of the handheld, plus a few perks of the new form factor. Because the app runs on a mobile platform, it takes advantage of the device's native camera resolution. This means pinpoint color accuracy is no longer limited to expensive cameras. Additionally, the app will allow for live video color conversion.
Gear-EM Actuated Relay
Team Members: Paten Junkin, Cooper Hollomon, Adam Eades, Zack Stout and Noah Wright
Project Advisor: David Wallace
Geomagnetic Electromechanical Actuated Relay (GEAR) is a product that blends the trusted and traditional methods of line protection with the next generation of features. Blending this revolutionary design with the proper techniques to harden the grid against geomagnetic storms and the electromagnetic interference (EMI) generated from them. By adding a new suite of features to the classic electromechanical relay, GEAR provides a new standard for power system protection and increases system reliability to new industry standards.
Gatekeeper
Team Members: Avery Adams, Andrew Hunt, Ryan Smith, Joshua Hendrix and Blake Johnson
Project Advisor: David Wallace
Not only detection but protection, GateKeeper is a revolving door that locks when any conductive metal is detected. GateKeeper helps eliminate danger to people in and around security checkpoints. Security personnel can monitor the influx of people walking through the door, collect detected items through a small window and reset the system when an individual has been successfully screened.
Smart Locker
Team Members: Daegan Appel, Graham Bray, Lane Chatterton, Austin Espino and Kyler Farrar
Project Advisor: Chaomin Luo
Smart Locker is a modular locker system designed for collaborative spaces, such as makerspaces, to share tools and resources. Lockers can be configured to fit the needs of any space, and the accompanying web application enables users to view, reserve, track and manage the inventory.
MT Desk
Team Members: Brandon Black, Grant Case, Andrew Donald, Eric Toups and Jeffrey Greer
Project Advisor: Sathish Samiappan
MT Desk is a desk that is controlled automatically by monitoring the user's movement.
Beatwave
Team Members: Tyler Tregre, Wes Hamlin, Katherine Ardoin, Brad Hamlin and Logan Johnson
Project Advisors: Ali Gurbuz and David Van Den Heever
BeatWave is a device designed to provide audio feedback therapy to aid the user in achieving a desired mental state. BeatWave functions primarily as an electroencephalogram-based device (EEG) by reading the electrical activity in the brain. The user first chooses their target brain state on the user interface. Once the user makes the selection, the electrodes determine the current brain state, and the brain-computer interface (BCI) selects the appropriate audio feedback, specifically binaural tones.
Solar Paw-er
Team Members: Sarah Johnson, Katie Nordeman, Gabby Trigg, John David East and Will Watkins
Project Advisors: Bryan Jones and Keith Hodge
Solar Paw-er is a solar-powered heated and cooled doghouse.
Fish Positioning System
Team Members: Daniel Spears, Madison Dyer, Nathanael Addison, Joanna Leake and Tucker Bourland
Project Advisor: Ryan Green
The project is a cellular bank pole fishing device.
L.O.T.U.S.
Team Members: Scott Hoerchler, Justin Herndon, Patrick Younes, Vignesh Raja Suresh Babu and Jacob Moore
Project Advisor: Ali Gurbuz
L.O.T.U.S. is an autonomous RC car used for sweeping areas.
Smart Target
Team Members: Cody Dye, Zack Smith, Jared McQuirter, Ruston Adams and JD McCraw
Project Advisor: Jane Moorhead
The Smart Target is a reset and scoring system used for long-distance rifle training. Smart Target introduces a user-controlled interactive element to long-range shooting. The shooter operates the target using nearby controls. These commands are processed and wirelessly communicated to the target. The target microprocessor activates a dc motor to raise or lower the target, allowing the shooter to hit the target. If there is a direct hit, a sensor reports that hit through a hit indicator located back at the marksman end.
Easy Dealer
Team Members: Richard Scott, Justin Xie, Jonathan Cheeks, JP Gathings and Hayden Groover
Project Advisor: Jane Moorhead
The Easy Dealer is a card-dealing device that shuffles the cards and plays three card games with the users.
Dr. Dispenser
Team Members: Terry Barnes Jr., Adesola Raji, Danielle Ware and Kaishu Thomas
Project Advisor: Bryan Jones
This device is an automatic medication dispenser.
Adventage - Smart Vent
Team Members: Nathaniel Possel, Charles Sailors, Chris Foreman, Anna Jackson and Haley Land
Project Advisor: Vuk Marojevic
The Adventage Smart Vent is an air vent designed to take information on the air passing through it and react accordingly. Adventage vents accomplish this by utilizing air quality and temperature sensors that send data to an application on the user's device. The vent regulates temperature automatically by opening or closing its corresponding slats using a motor based on the data collected.