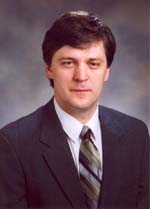 Yaroslav Koshka, an electrical and computer engineering professor at the Bagley College of Engineering, was appointed a program director for the Division of Materials Research, at the National Science Foundation.
Koshka said he was honored to be appointed to this position and has been eager to begin in his new role, which started on August 1. This is a one-year appointment as a program director with the Electronic and Photonic Materials program in the Division of Materials Research, Directorate for Mathematical and Physical Sciences.
"I was very excited about being offered this position. It is an opportunity to bring together very different parts of my cross-disciplinary research background and pay more attention to certain research areas, such as materials and hardware side of quantum computing and quantum information sciences," Koshka said.
Koshka's core duties include organizing and conducting panels to review funding proposals submitted to the Electronic and Photonic Materials program in the division.  He will also have the opportunity to work with principal investigators to help them manage and execute their research and work with prospective principal investigators to help them identify the most suitable funding opportunities and collaboration opportunities for their research.
In addition to those core duties, he anticipates getting involved in new research/education initiatives, specifically in the area of quantum computing and quantum information sciences, applying machine learning and quantum machine learning in materials research. Koshka also plans to continue his own research in computational/algorithmic quantum computing and its application to machine learning and a few other areas, such as micro- and nano-electronic materials and devices.
Samee Khan, Department of Electrical and Computer Engineering head and James Worth Bagley Chair, said it is an honor to have a faculty member from the department named to such a prestigious position.
"It is a great honor for the department to have Dr. Koshka serve our nation as an NSF Program Director. It is a rare honor for MSU to have two faculty members from a single department be on detail to the NSF," he said.
Koshka received his master's degree in microelectronics from Kyiv Polytechnical University in Ukraine and his Ph.D. in electrical engineering from the University of South Florida. His research interests include quantum computing and its applications in Machine Learning; experimental and computational semiconductor device physics; nanoelectronics and nanomaterials for biomedical applications; semiconductor and multifunctional materials; material and device characterization; and optical spectroscopy.