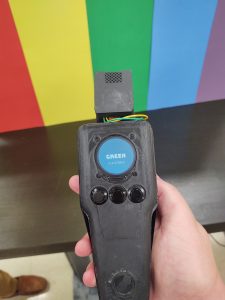 A group of students participating in the Department of Electrical and Computer Engineering's senior design course hopes to make the world more colorful for those with colorblindness.
An estimated 300 million people worldwide live with colorblindness, including Mississippi State electrical engineer major Zach Scarbrough. Together with his group members Cameron Bass, Xen Gaerlan, Joe Kennedy and Austin Wesly, they created the Color Accessibility Meter, a handheld device designed to aid individuals with colorblindness in their daily activities. Its ergonomic, handheld design allows the user to scan an object and view the name of the color in English, its color code in hexadecimal, CMYK or RGB, and a more easily distinguishable version of that color, which has been shifted in hue.
The device features a menu option that enables the user to choose a particular type of colorblindness and simulate what a standard-sighted individual would see by shifting the color accordingly. This color filtering algorithm can shift colors away from overlapping problem cones, helping the user see colors more vividly. This unique feature can be thought of as "reverse color-blinding." There are other similar devices like the CAM, but the cost of such devices often puts them out of reach for the larger population. The group created the CAM device to be more accessible and customizable for individuals rather than a one-size-fits-all product.
Umar Iqbal, team advisor and professor in the Department of Electrical and Computer Engineering, explained that the Color Accessibility Meter was challenging since the project addressed a significant accessibility issue for individuals with colorblindness.
"The CAM team encountered several challenges during Senior Design I and II, including hardware malfunctions, supply chain issues, and software optimization. Despite varying workloads, the team worked tirelessly and remained united toward achieving their shared goal. Their perseverance and hard work led to a successful outcome," Iqbal said.
The team also sought the advice of Kendra Farrow, a project director at the National Research and Training Center on Blindness and Low Vision on the Mississippi State main campus. Farrow helped the team with the overall direction of the device and paid close attention to their desire to make it more accessible.
While CAM started as a class project, the team has plans to refine the device and is exploring the development of a CAM mobile application for smartphones. An app would provide greater convenience and improved user experience.