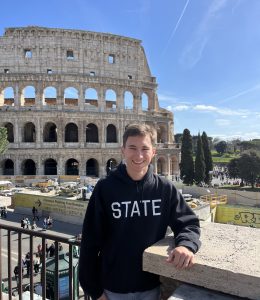 August Fort is a senior petroleum engineering major with deep ties to Mississippi State University. As a third-generation Bulldog, Fort knew Mississippi State was the only school for him.
Fort grew up loving math and science, and when it came time to pick a major, he decided to take a chance on petroleum engineering, something he knew little about.
"I decided I wanted to do petroleum engineering because I knew I wanted to be involved in a field that has a lasting impact, and I personally believe there's nothing more important than energy," Fort said. "I am the first member of my family to do petroleum engineering, but my parents are really supportive, and ever since I decided to do it, I've loved it. It's a very fascinating industry, and I've been blessed here with great opportunities to set up my career for the next 30 to 40 years."
Since being in the petroleum engineering program, Fort spent a summer with Chevron in Covington, Louisiana. In his role as a production engineering intern, he learned about the day-to-day operations for the production of oil and gas in the Gulf of Mexico.
"Chevron has different fields in the Gulf of Mexico where they produce oil and gas. I was assigned to a team of one of the particular assets in the Gulf of Mexico, and I was a production engineering intern. Production engineers are in charge of overseeing the day-to-day operations of the asset. We review production trends and figure out how we can optimize production. If something goes wrong, how can we fix it? I loved my job, and within the Covington office, there were multiple different disciplines I could see while I was there," Fort said.
One of his favorite experiences while interning at Chevron came when he traveled offshore in the Gulf of Mexico for a week.
"I loved the people out there because they were like the people I grew up with," Fort said. "They were really nice, down-to-earth people. That was one of my favorite parts of my entire internship."
Fort acknowledged how prepared he felt for the internship due to the efforts of his professors at MSU.
"The petroleum engineering professors have been great not only in the classroom but outside of the classroom as far as advice or helping us find jobs and internships. The class sizes are small, so the professors are really able to teach what they think is going to benefit us most in the industry. Our professors have great knowledge of the industry, and they know what's going on in our field, so they're really preparing us to go into the industry," he said. "The stuff we do in the classroom, like the software we're learning to use is the same software I used over the summer. I felt very prepared, and that was something you really don't know until you go out there, how you stack up versus the actual industry expectations. I felt like that gave me great confidence in what I've learned at Mississippi State."
As far as his future, Fort will graduate in May and begin working full-time.
"I'm graduating this spring with a petroleum engineering degree. Chevron offered me a full-time job to be a petroleum engineer at the end of my internship," Fort said. "They offered me my dream job, great location, great salary. So, of course, I took it."
As Fort looks back at his time at Mississippi State, he remembers the steps and patience it took to get to where he is now.
"You might need some patience, and life might not go the way you exactly planned out. I keep going back to thinking outside the box as an engineer. One of the biggest things I learned is it's okay to take a different path," Fort said. "It's okay to think outside the box; try different things. Even though it might be difficult, it's going to benefit you at the end of the day. I think, for me, that's probably one of the biggest things I've learned. I didn't take the cookie-cutter route to get where I'm at. It's given me a great sense of relief knowing that if you do work hard, you're going to be rewarded."