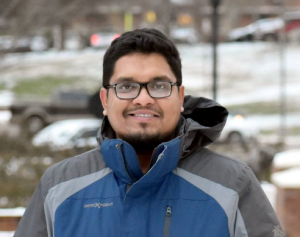 A Mississippi State doctoral student recently captured top honors at the Army Research Lab's Summer Student Symposium.
Mohammed Safayet Arefin, a Ph.D. candidate in the Department of Computer Science and Engineering, won first place for his research project titled "Tracking Perceptual Depth with Eye Vergence and Inter Pupillary Distance in VR."
He was selected from a group of just 10 summer interns to represent the Human Research and Engineering Division. All told, his research won first place over approximately 100 summer graduate interns.
As part of his award, Arefin will receive the Commander Award Certificate, $500 in prize money and will have the opportunity to present his research at the Army Futures Command Symposium.
Arefin is currently conducting research with computer science and engineering professor Ed Swan in the Spatial Perception And Augmented Reality Lab.
Mississippi State's Bagley College of Engineering is online at www.bagley.msstate.edu and can be found on Facebook, Twitter, YouTube and Instagram at @msuengineering.
MSU is Mississippi's leading university, available online at www.msstate.edu.
By Philip Allison