Space Cowboys rocket team to hold public launch
October 21, 2019
With an eye towards an upcoming national competition, Mississippi State University's student-led rocket team, the Space Cowboys, will be conducting a test launch on Saturday, October 26 that will be open to the public.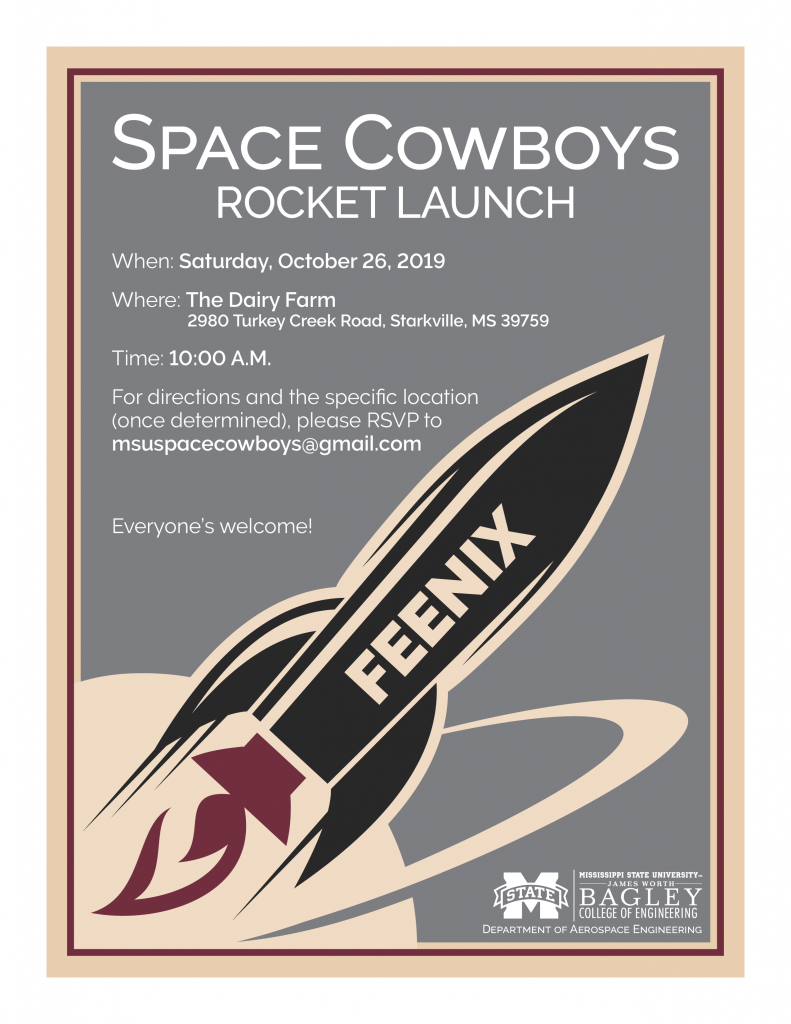 The launch is scheduled to take place at approximately 10:00 a.m. at the Mississippi State Dairy Farm, located at 2980 Turkey Creek Rd. in Starkville. Anyone planning to watch the launch should RSVP to msuspacecowboys@gmail.com.
"Our main goal for the year is preparing for a national competition that will happen next year," said Michaela Bashour, a senior majoring in aerospace engineering and the team's project manager this year. "During the fall semester, we usually build a smaller version of the rocket that we'll use at the competition. This subscale rocket is what we'll be launching on Saturday."
The test rocket for Saturday's launch, nicknamed Feenix, is approximately four feet tall and about four inches in diameter. It should reach an altitude of approximately 7,000 feet after it is launched.
"Saturday's launch will help us test some of our avionic systems that we're creating," Bashour said. "And we'll also be able to test some of our safety procedures as well. It's a rocket we've flown before to check our parachutes and recovery systems. After this test launch, we'll work towards building a full-scale version and do a practice launch for it in the spring."
The Bagley College of Engineering is online at www.bagley.msstate.edu and can be found on Facebook, Twitter, Instagram and YouTube at @msuengineering.
Mississippi State University is Mississippi's leading university, available online at www.msstate.edu.
By Philip Allison