Swann earns prestigious online teaching certification
May 27, 2020
With an increasing number of Mississippi State University classes now including an online component, one engineering staff member has earned a prestigious certification from the international organization dedicated to improving the quality of online education.
Tamra Swann, the distance education coordinator for the James Worth Bagley College of Engineering, has earned the Teaching Online Certificate from Quality Matters. The certification allows her to better support to Bagley faculty members who are teaching online courses.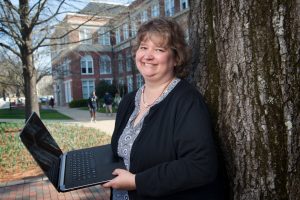 "Providing successful online course opportunities help the students, the faculty, the college, and the university to flourish," Swann said. "Looking at the different tools and organization of an online class versus an on-campus class is something I enjoy helping faculty do.  Whether it's virtually helping the faculty member with their questions about setting up their online Canvas course or helping direct them to other appropriate resources on campus, the end result of these efforts are online classes within the BCoE that facilitate a robust learning environment for all our students."
Presented as a series of seven workshops, the Teaching Online Certificate enables instructors to demonstrate their mastery of online teaching. The workshops include competencies centered around such topics as:
Gauging Your Technology Skills
Evaluating Your Course Design
Exploring Your Institution's Policies
Orienting Your Online Learners
Connecting Learning Theories to Your Teaching Strategies
Creating Presence in Your Online Course
Assessing Your Learners
Quality Matters currently has more than 60,000 members. It supports research, expanded online offerings and cultivates a community of professionals who are dedicated to quality assurance in online learning.
The Bagley College of Engineering is online at www.bagley.msstate.edu and can be found on Facebook, Twitter, Instagram and YouTube at @msuengineering.
MSU is Mississippi's leading university, available online at www.msstate.edu.
By Philip Allison